Week In Review, 7/21/17
Tear your eyes away from Dunkirk or Valerian to catch up on RPG news.
07.21.17 - 11:44 PM
There's both a new Christopher Nolan movie and a Luc Besson flick out today, so I don't know what you're doing reading video game news on the Internet right now... but nevertheless, we here at RPGFan appreciate your dedicated patronage! We don't have popcorn or drinks, but we do have spiky-haired protagonists with giant keys that pal around with Disney characters. The work we have on display from this past week comes to us courtesy of Derek Heemsbergen, John Alas, Trent Argirov, Mike Salbato, Chris Gebauer, and yours truly. So without further ado...
Stories by Mike Salbato and Peter Triezenberg
We've gone from having virtually no word on Kingdom Hearts III to Nomura giving interviews practically every day, and I'm absolutely OK with this. Not only is Square Enix collaborating with Pixar to bring the world of Toy Story to the Kingdom Hearts franchise, but the game actually has a release window: 2018. We might actually get to play Kingdom Hearts III within our lifetimes, you guys!
Review by Derek Heemsbergen
It's been a while since we had a decent Mana game, but luckily, the team behind Grezzo is stepping forward to fill in that void. After testing the waters with the 3DS remakes of Ocarina of Time and Majora's Mask, several ex-Mana staff members have come together to bring us this unique take on the action-RPG. But, is it any good? Well, you'll have to read the review to find out. Them's the rules.
Story by John Alas
Digimon Story: Cyber Sleuth was one of 2016's surprise hits, a solid turn-based RPG based on the Digimon license. Now developer Media.Vision is set to deliver an exciting follow-up in the form of Hacker's Memory, which brings new digital critters, characters, and mechanics to the table.
Story by Trent Argirov
Still keeping up with all of Final Fantasy XV's DLC? I sure am, even if some of it leans more on the silly side of the spectrum. After being delayed a bit after Square encountered some legal trouble with the copyright holders of Power Rangers (announcing this DLC so close to the movie's release might not have been a great idea), the Magitek Exosuit is finally set to make its debut.
Story by Chris Gebauer
Dragon Quest XI looks more tantalizing every time we see it, and now that this gorgeous prologue video is out, the wait for the game's hopefully inevitable Western release is all the more agonizing. There's also a slew of Dragon Quest flavored themes coming out in Japan for both the PS4 and the 3DS, so fans can personalize their hardware to better suit their adventure.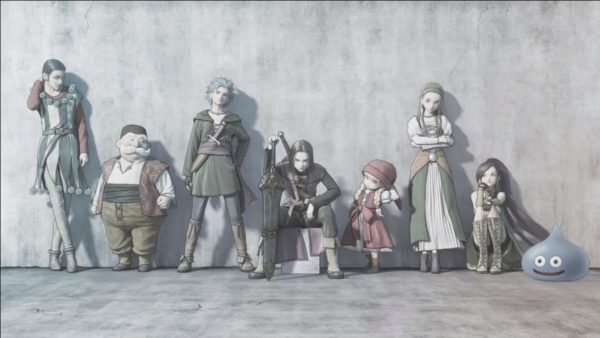 Story by Mike Salbato
One of the better Diablo clones on the market, Path of Exile's latest expansion, The Fall of Oriath, greatly impressed our staff members at this year's E3. Now there's a bevy of pretty screenshots for you to take a gander at, as well as a release trailer to sate your appetite for hacking-and-slashing until The Fall of Oriath finally comes out.
Story by Trent Argirov
Last, but not least, we have new screenshots and character artwork for Fire Emblem Warriors. After the surprisingly excellent Hyrule Warriors, it's exciting to see another well-suited Nintendo franchise branch out into the musou brand.
And that's a wrap for this week, folks. Those are just the highlights: we've published even more quality content for you this week, so be sure to catch up on the front page, and as always, stay tuned to RPGFan!