Tales of Zestiria Gallery Update
And a handy relationship chart to keep track of who is what to whom.
06.25.14 - 6:45 PM
In the latest issue of VJump magazine in Japan is a recap of what we know so far about Tales of Zestiria characters. If you'd like a refresher yourself, you can read some of our earlier stories on Alicia, Edna, Dezel, Lyla, Mikulio, and Zabeeda at your leisure. Also included, though, is a handy chart that shows how all the characters are linked to each other.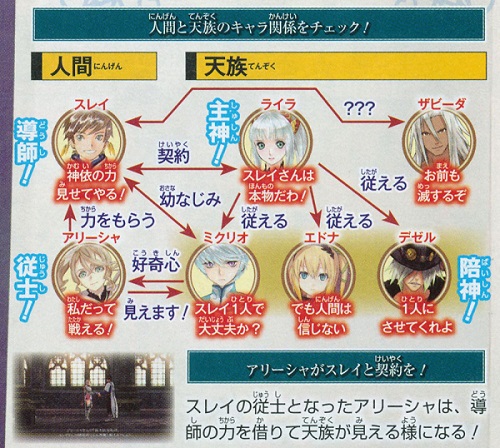 The glue that holds everything together is the contract held between the hero, Slay, and Lyla, who is helping guide him on his journey as a priest. Alicia has a different contract with him, which allows her to gain some of his powers and be able to see the Divine. Mikulio, Dezel and Edna serve Lyla, and gain some of her powers in the process. Last is Zabeeda, whose relationship to Slay is marked only by "???" at this point.
Tales of Zestiria is currently in development for PlayStation 3. It will likely see release in 2015, but will be coming to the west the same year as Japan. And don't forget to check out our updated gallery!