Meet A New Tales Of Zestiria Character And Learn About Fusion
Characters can fuse with each other! Seeing is believing, and there's a lot of stuff to see today.
06.01.14 - 8:05 AM
Earlier today, Bandai Namco began their yearly Tales of Festival and released some interesting tidbits on the newest entry in the Tales series, Tales of Zestiria.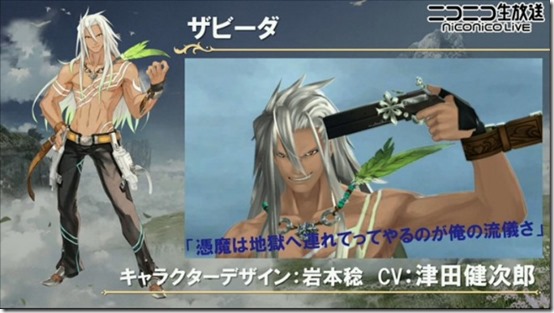 Firstly, a new character was revealed. Zabeeda seems to be an antagonist for our protagonist, Slay. The trailer below is of Slay's first encounter with him. Zabeeda reveals that he knows Slay is a monk (Doushii), then takes a gun out and shoots himself (Andrew's note: it does not summon his persona). Afterwards, Slay states that the world has many untold, hidden legends and that he and the rest of the party are journeying for their own reasons, not just because they are monks. It has also been revealed that Alicia, like Slay, can see and interact with the Heavenly Tribe.
Next up is the newly announced fusion ability known as "Kamui" that allows two characters to fuse together as one being temporarily. The handy diagram below shows how Slay and Laila look when fused together. It appears that Slay can fuse with any member of the Heavenly Tribe, though most other details remain a mystery at this point.
The ability can be consecutively activated and deactivated, though its limitations have not yet been detailed. You can see it in action below, but blink and you'll miss it. Keep an eye on Slay and Laila when they vanish and attack as one.
We now also know that skits, where various characters speak to one another about the game's events, will return. This time around, they use full character portraits. Check it out below:
In related news, action figures for characters Slay and Alicia are currently in production, a new anime special, Tales of Zestiria - Dawn of the Priest, will air prior to the game's release through a special broadcast. And finally, on June 20th, Nico Nico Douga will begin airing live streams featuring Tales of Zestiria each month.
Tales of Zestiria is currently in development for the Playstation 3.