Coming This Week, 10/21/19
Tick, tock, Mr. Rean. Tick, tock.
10.21.19 - 7:46 PM
Hello, dear readers, and welcome to the latest edition of Coming This Week! This time around, we have the latest installment in a fan-favorite series, a return to form from one of the industry's most acclaimed studios, a long-awaited sequel to a cult classic horror title, and more. Let's dive right into it!
We're starting out painting a pretty picture of the week's games with a console release for Eastshade on October 21st. Unleash your inner artist, marvel at the gorgeous game environments, and discover the island's secrets on PlayStation 4 or Xbox One. Our very own Tris Mendoza gave it a colorful (dare I say glowing?) review, so have a look!
It's been a long time coming, but The Legend of Heroes: Trails of Cold Steel III is finally making its way to Western shores. With a new publisher (NIS America) and some of the same creative talent behind the localization of the first two games, Cold Steel III promises to be a worthy continuation of the Erebonian saga. Keep an eye out for a review from us soon.
When the mist arises, who knows what lurks within? From Kemco and Pqube, Raging Loop is a psychological horror visual novel that sees players unraveling the mysteries of a remote Japanese village. The game will be hitting the Switch and PlayStation 4 this Tuesday.
Can I play with madness? Lovecraftian horror and space exploration are two concepts that go hand in hand, what with the fear of the unknown that comes with the territory. Moons of Madness is a graphic adventure title wherein protagonist Shane, a technician on a remote Mars station, finds himself beset by horrifying visions. You can find more information about Moons of Madness in our preview from E3 2019! (Note: MoM is also coming to PS4 and Xbox One, on January 21, 2020.)
Dungeon crawlers aren't for everybody, but they offer a rewarding challenge for those who are up to the task. The original Mary Skelter offered a unique dark twist on the fairy-tale subgenre a couple years back, and now the sequel is making its way to the Switch platform. It even comes bundled with the first game, which is quite a bargain!
Also coming from NIS America this week is Destiny Connect: Tick-Tock Travelers, an adorable-looking RPG that appears more geared towards genre newcomers. The time-traveling shenanigans of Destiny Connect are bolstered by its adorable cartoony art style and unique customization. Be sure to give Alana Hagues' review a read if you'd like to know more.
The Corpse Party series has had a number of unique spin-offs and follow-up projects, from the visual novel Book of Shadows, to the hijinks of Sweet Sachiko's Birthday Bash, to the jump to 3D with Blood Drive. Now, a proper continuation of the series' horror roots is finally headed westward, thanks to publisher XSEED Games. The first episode of Corpse Party 2: Dead Patient will be available this Wednesday, just in time for Halloween.
As anyone who knows me has probably gathered, I really love cats. So, the idea of a cat-themed RPG is inherently appealing to me. Cat Quest II offers a solid action RPG experience and an abundance of animal puns, so what's not to like? Be sure to read Bob Richardson's review if you'd like to know more.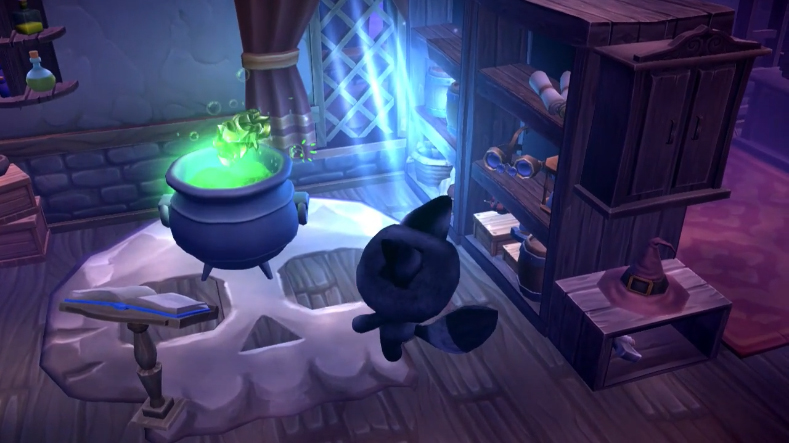 What's better than one cat game? Two cat games! In October. In addition to the above Cat Quest follow up, we are also getting access to adorable indie game Potion Paws. This title was featured on Crowdfunding Chronicles a while ago, and we can't wait. Awwww, kitties make the most adorable potion makers.
The last thing on the docket for this week is The Outer Worlds, the latest game from Obsidian Entertainment. This game has been billed by the developers as something of a "true successor" to the Fallout franchise, capitalizing on fan disillusionment with Bethesda's handling of the property and the studio's own success with Fallout: New Vegas. If you're looking for a zany, fun RPG, nobody makes them quite like Obsidian, so be sure to pick up The Outer Worlds this Friday. Keep an eye on RPGFan for upcoming coverage of the game as well.
And that's a wrap for this week, folks! Stay classy, and we'll see you next time.