Crowdfunding Chronicles Volume 19 - 9/6/2019
Odds are you've already backed one of these, but all of this week's titles are worth viewing!
09.07.19 - 9:28 PM
Only one of our three highlights this week features a dog in the lead role, a fact which I find to be exceptionally disappointing. Dogs are important. Nevertheless, for those of you who prefer to play as a human (or robot), your gaming needs will surely be satisfied by our remaining two titles, an animated cyberpunk point-and-click game and a lovely SNES-style RPG. Enjoy!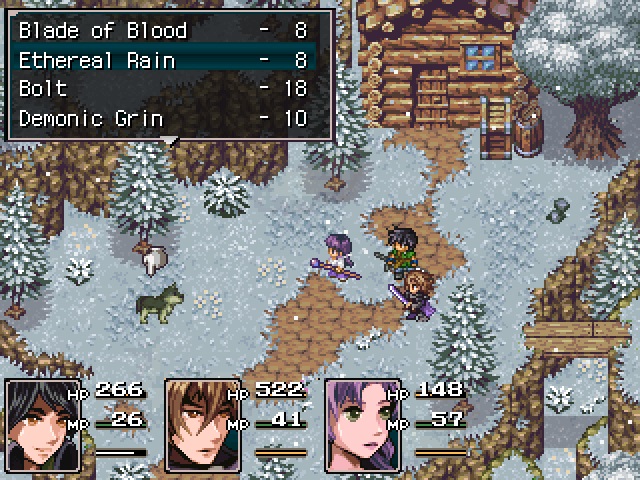 Platform: Windows and Linux. Stretch goals add PS4, Switch, and potentially Xbox One versions.
The beautiful key art and detailed pixel graphics of Beloved Rapture immediately caught my eye: a mix of Chrono Trigger and Secret of Mana, with plenty of attractive anime-style gentlemen to be seen.
The game is a traditional turn-based RPG with themes of family, philosophy, and religion, featuring LGBT characters in prominent roles. Follow our heroes as they find themselves caught in a kingdom-spanning conflict resulting from a change in government and the advancement of an ancient, militant religion.
Exploring the detailed, 16-bit environments in Beloved Rapture is sure to be a joy. Beyond trying to find all the birds and butterflies flitting around the pixelated scenery (which is exactly what I spent my time on while reading the game's campaign page), you'll be able to climb, jump, swim, and more. Meanwhile, dungeons will provide plenty of puzzles to solve throughout their dark and murky depths. Thankfully, all enemies you encounter will be visible on map screens; random battles are something best left to original SNES games.
Personally, I really admire both the gorgeous key art and classic pixel graphics in Beloved Rapture, and am always in the mood for more story-heavy RPGs. This is one SNES-style game I definitely recommend checking out, and if you happen to like the artwork as much as I do, pledges over $34 US will include a digital artbook. Always a welcome gift!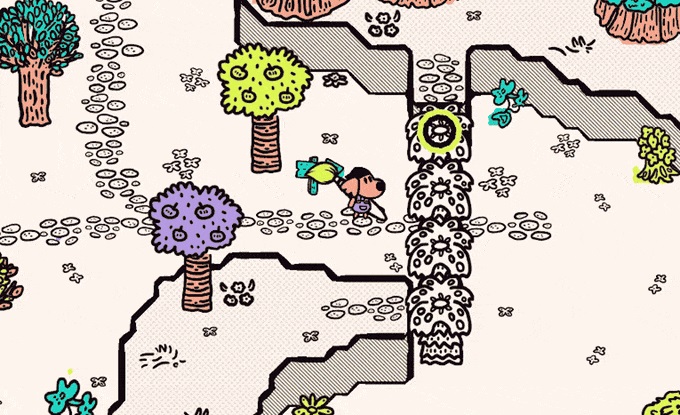 Platform: Windows and macOS. Consoles may be possible in the future, but nothing is confirmed.
I feel that it's my duty to report on as many adorable, animal-focused games as possible. Chicory: A Colorful Tale fits this category quite nicely.
Take on the role of a little dog named Pizza, wielder of a magical paintbrush. The brush's previous owner, a regal brown rabbit known as Chicory, has disappeared...along with all the colors of the world! It's now up to you to restore the land to its former glory in an open world puzzle adventure game by the developers of Celeste and Wandersong.
You'll be using paint to solve puzzles and explore the world and can color on just about any surface you'd like. Meanwhile, a spooky and troublesome forest is slowly overtaking the land. Braving the trials within will provide you with new art-themed abilities, allowing you to access more locations. For example, one of these power-ups causes your paint to glow in the dark — a handy feature to have when exploring dark and dreary caverns! Need a break from saving the world? No problem, you'll also be able to collect new outfits, furniture, and plants to decorate yourself and the environment.
All in all, Chicory looks to be a charming mix of classic Zelda games and Animal Crossing, with a healthy sprinkling of Mario Paint. My brush and palette are ready!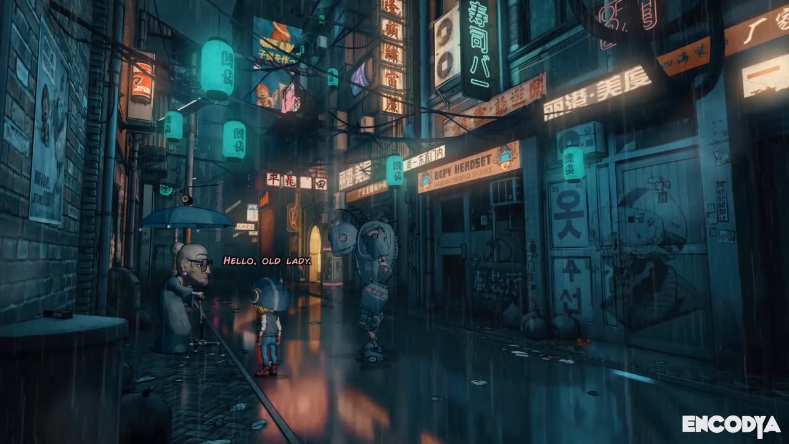 Platform: Windows, macOS and Linux. Future plans include console and mobile versions.
Huzzah! A new cyberpunk point-and-click adventure is on the way! This time around, it happens to be a humorous all-ages title, a refreshing sight in a genre full of doom and gloom (and stylish sunglasses).
ENCODYA stars a street kid named Tina (no relation!) and her robot companion on a world-changing journey through the dystopian city of Neo Berlin. Gameplay follows a traditional point-and-click format, with one important little quirk: certain locations and objects are randomized. What this means is that each playthrough contains different items with similar purposes, so puzzles do not have the exact same solution each time. The reasoning behind this is to make it more difficult to find answers online, harkening back to classic pre-internet adventure games that often took months to solve.
The developers of ENCODYA come from a film and animation background, and this definitely shows in the game's exaggerated character designs and detailed backgrounds. Most pledge levels even include the animated short film "Robot Will Protect You," which takes place in the ENCODYA universe. If live action aligns with your tastes, you can pick up the Cyber Octopus collection for 50 EU, featuring another brief cyberpunk film and related merchandise. Both short films were originally funded through successful Kickstarter campaigns in 2017 and 2018, in case they seem a little familiar to you.
Personally, I have high hopes for ENCODYA. Rarely do I say "no" to graphically impressive point-and-click games, and it's nice to see more lighthearted fare in the cyberpunk genre!
Gibbous: A Cthulhu Adventure (Campaign Page), is now available on Steam and GoG. This animated point-and-click adventure looks to be a fine choice for fans of horror, comedy, and talking cats!

Disclaimer: While it's possible some of us at RPGFan may be backers of the games mentioned in these articles, this does not influence our coverage or our featured game choices. We make our selections simply based on the active campaigns we feel our readers might find interesting, and we are not given special access or perks by the developers.

tl;dr: We think these games show potential and want to share them with you.