Pokemon: Let's Go! Pikachu and Let's Go! Eevee Officially Announced by Game Freak
The rumors are true: we're going back to Kanto.
05.29.18 - 11:12 PM
During a recent press event in Tokyo, Game Freak announced a new pair of Pokémon titles that will be coming to the Nintendo Switch. Entitled Pokémon: Let's Go, Pikachu and Pokémon: Let's Go, Eevee, these new games whisk players back to the Kanto region, and are intended for those who are "taking their first steps" into the Pokémon series.
Let's Go, Pikachu and Let's Go, Eevee both take advantage of the Nintendo Switch hardware, shaking up the Pokémon formula by integrating mechanics similar to those found in the mobile sensation Pokémon Go. Specifically, catching Pokémon in the new games is handled via either the Joy-Con or the newly announced Poké Ball Plus peripheral, and works similarly to how it does in Go. The peripheral (sold separately) not only functions as a controller for catching Pokémon, but it also vibrates and lights up in a variety of ways.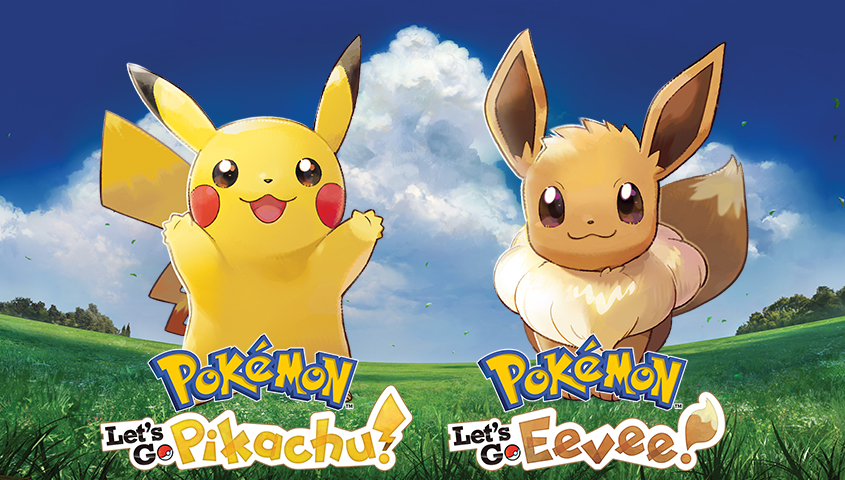 According to Junichi Masuda from Game Freak; "With the launch of Pokémon Go in 2016 and the global sensation that ensued, millions of new players were introduced to the world of Pokémon... Pokémon Go was their first experience with the Pokémon brand, so we have crafted these two new titles to be an accessible entry point to our core RPG series while giving our longtime fans a new way to play Pokémon." Indeed, players invested in Pokémon Go will be able to transfer their Pokémon over to the Nintendo Switch (provided, of course, that they were originally discovered in Kanto, or are one of the recently added Alolan variants). Game Freak is also teasing that "something special" connected to the new games will be coming to Go in the near future. Let's Go, Pikachu and Let's Go, Eevee also feature a two-player mode, allowing friends and family to share in the adventure.
Check out the announcement trailer below.
And don't worry, Trainers: if you're concerned about the apparent change in direction shown in Let's Go, Pikachu and Let's Go, Eevee, Game Freak has confirmed that these titles are not the core Pokémon title teased last E3. That game is still on its way and will arrive in late 2019.
Game Freak also announced Pokémon Quest, also for Nintendo Switch. This "rambunctious" action-RPG uses simple touch controls and takes place on Tumblecube Island, where everything, including Pokémon, are shaped like cubes. Players will explore the island, hunting for treasure and encountering new Pokémon along the way. Best of all, it's available right now for download! You can find the announcement trailer for Pokémon Quest down below.
Pokémon: Let's Go, Pikachu and Let's Go, Eevee will be available on November 16th for the Nintendo Switch, with the Poké Ball Plus accessory being available for purchase on the same day. Stay tuned to RPGFan for more details.