The Legend of Heroes: Trails of Cold Steel III Confirmed for PS4, 2017 Release in Japan
Journey with Rean again, a year and a half after Cold Steel II.
12.20.16 - 12:24 PM
Falcom recently held its general shareholder's meeting, during which it was announced that The Legend of Heroes: Trails of Cold Steel III will release exclusively for the PlayStation 4 in the Fall of 2017 in Japan. Cold Steel III will introduce a number of new elements to the series, serving as an evolution "in every respect" while also maintaining what fans love about these games. Below is a brief synopsis of the game's story.
Septian Calendar 1206–. The end of the civil war led to the turning point of a new era for the Erebonian Empire. Centering on Rean Schwarzer as the "Ashen Chevalier," the young man who came to be seen as a hero within the country, a new story of young heroes will unfold—.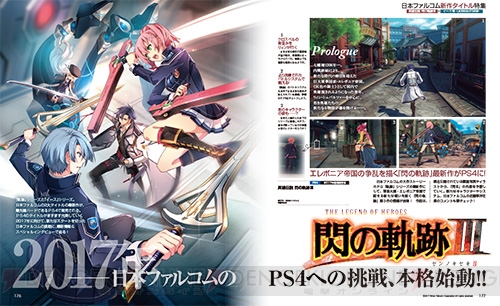 An interview with Falcom's president Toshihiro Kondo in Dengeki PlayStation revealed that Trails of Cold Steel III will take place a year and a half after the events of Cold Steel II, after Rean and his fellow Class VII members have graduated from the military academy. The story this time will take place in the Western half of the Empire, with characters from Trails in the Sky and Zero no Kiseki set to make appearances. According to Kondo, the "mystery of Rean's birth" will be explained in this game, as well.
On the gameplay side of things, Falcom aims to make battles feel more involved by mapping actions directly to the PS4's buttons, a system that is still a work in progress but it intended to speed up the pace of battle. There's also a possibility that battles will transition seamlessly from the map, and a new system called "Brave Order" is also under development. The Divine Knight System will also be seeing a boost in Cold Steel III, becoming a main game system rather than just something that occurred in event battles.
You can check out some new screenshots of Trails of Cold Steel III in our gallery. As always, stay tuned to RPGFan for more details.