Nights of Azure 2 Officially Announced for PlayStation 4 and Vita
More Gust goodness.
08.26.16 - 1:51 AM
After an apparent leak that a sequel to Gust's action-RPG Nights of Azure was in development, Dengeki PlayStation has officially revealed that Nights of Azure 2 will be coming to PlayStation 4 and Vita. The sequel will tell a "new story that intricately connects the emotions of three girls," carrying on the themes of its predecessor while enhancing its gameplay systems. After being killed in battle with a powerful demon, a knight named Alushe Anatoria is resurrected as a half-demon and obtains the power to fight back. She does so alongside her companion Liliana Selphin. The third major character is a childhood friend of the duo's, the hot-blooded Ruhenheid Ariarod.
Nights of Azure 2 is being produced by Keisuke Kikuchi and directed by Hiroshi Kataoka, while the scenario is being penned by Makoto Shibata, series director of the Fatal Frame series, with Junichi Fujisaku from Production I.G. supervising. Yoshiku is handling the character design, rounding up a pretty stellar lineup of developers and artists contributing to the project.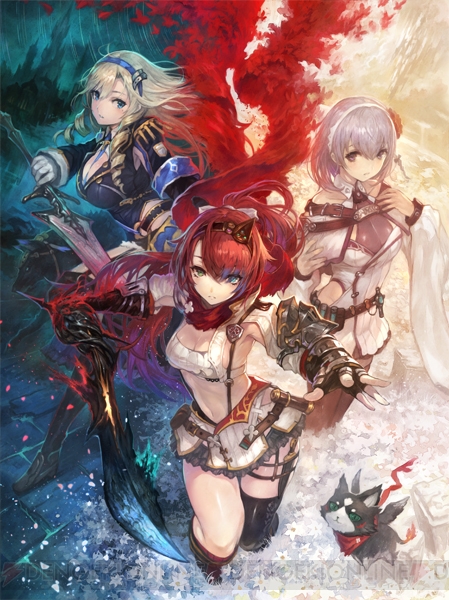 The game will reportedly launch on December 22nd in Japan, so stay tuned to RPGFan as we learn more about Nights of Azure 2!