Digimon Story: Cyber Sleuth Gets February Release Date in US
Along with some snazzy in-game preorder bonuses.
10.21.15 - 4:10 AM
Bandai Namco recently announced that Digimon Story: Cyber Sleuth will be released for the PS4 and Vita on February 2nd of next year, along with a set of bonuses for those who preorder the physical PS4 copy (the Vita version, regrettably, is digital only).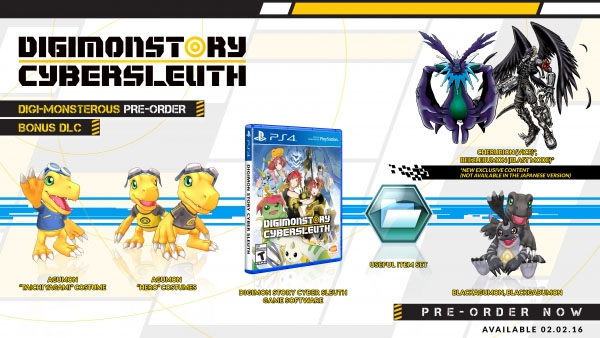 The preorder bonuses include a black color variant for both Agumon and Gabumon, two Digimon exclusive to the Western version of the game (Beelzebumon (Blast Mode) and Cherubimon), a "Taichi Yagami" costume for Agumon, a male and female "Hero" costume set for Agumon, and a "Useful Item Set" that comes with a Hunter USB, two Full Revives, and three Brave Point Cs (which give a Digimon 10,000 EXP). We also have a new plot synopsis from Bandai Namco, which you can take a look at below.
Log-In to Solve a Digital Mystery Infecting the Real and Digital Worlds!
Set in the near future, the line between the real and digital worlds is blurred. Logging into cyberspace is part of everyday life. For one teenager, a harmless on-line chat spawns a chance encounter with a mysterious hacker. Little did this teen know, this brief meeting would lead to a digi-monumental adventure.
In Digimon Story: Cyber Sleuth, scan, raise, and train your faithful Digimon companions to battle by your side against a group of hackers.
Do you have what it takes to crack this digi-case?
Features:
Featuring more than 200 Digimon from the animated series!


Become a detective to investigate and gather clues to solve the digital mystery!


Turn-based battles return! Connect attacks together for more powerful combos!


Scan, raise, train and battle Digimon. Digivolve to unlock more powerful forms!


Traverse and explore the vivid and immersive environments of the real & digital worlds.
Last but not least, European Digimon fans who live in the UK, Germany, or Italy can rejoice, because Bandai Namco is releasing the physical PS4 edition of Digimon Story: Cyber Sleuth in those territories. The Vita version will be exclusively digital there, as well.