Tons of Final Fantasy XV News from Gamescom
Potential release window, themes, new gameplay, and more.
08.06.15 - 12:34 PM
Following the release of the new "Dawn" trailer for Final Fantasy XV, Square Enix released some new details concerning the upcoming title in a new Active Time Report at this year's Gamescom, and we've got all these juicy tidbits lined up for your reading pleasure.
While Square did not announce a release date at Gamescom, they did say that they have internally established the distribution of information relating to Final Fantasy XV, including its release date. Director Hajime Tabata would later go on to say that the game would release "before 2017," making 2016 a likely time of release. "At the very least, I can tell you that it isn't going to be released this year. I think we'll be able to tell you when we're making the announcement around PAX Prime, at the end of this month," Tabata says, adding that "We can certainly say to people: it's not going to be 2017. It's going to be before that."
The story of Final Fantasy XV will take place fifteen years after the events shown in the Dawn trailer. Tabata clarified that the large creatures glimpsed in the trailer, while they are important to the story, are not Eidolons but something else. Thematically, in addition to the bonds between Noctis and his comrades, the game will also focus on the bond between parent and child. A new plot synopsis is detailed below, which also sheds some light on newcomer/Stella replacement Luna, who is described as a "strong character with her own will and motivations."
In a matter of days, the Kingdom of Lucis is to sign an armistice, ending a long and bitter conflict with Niflheim.
Ahead of the ceremony, Prince Noctis, heir to the Lucian throne, sets forth from his homeland to formalize the union of states through his marriage to the lady Lunafreya of the imperial province of Tenebrae.
The offer of peace, however, is no more than a ruse to lower the Lucian shield.
The imperial city takes the crown city and its sacred crystal in one fell swoop. En route to his destination, Noctis is shocked to learn the he, his father the king, and his betrothed are believed dead.
Overnight, the dream of peace has faded into a distant memory. His world crumbling around him, Noctis has naught but his resolve and his loyal companions to see him through the trials to come.
During a lengthy Q&A session, Hajime Tabata answered fan questions about what we can expect to see in Final Fantasy XV. The question of airships was brought up again, to which Tabata said that they were currently "looking into the technology" to see how feasible it was, and if it didn't make it into the final game, he'd like to release it as DLC. The basic design of the Cross Chain system, seen in the Episode Duscae demo, is also basically complete, although it will be tweaked and polished before release.
The core elements of the story from Versus XIII are to be present in Final Fantasy XV, although these have been expanded upon to include the themes of friendship and parent-child relationships. It's difficult to know exactly what this means, as so little is known about the behind-the-scenes work on Versus XIII, but one can hope that XV will stay true to the original game's vision. Tabata also said that Final Fantasy XV's villain would surpass all previous villains in the series (bold words to be sure), and mentioned that the mysterious black-haired lady glimpsed in the trailers is "very important" to the story. Speaking of female characters, Final Fantasy XV's version of Leviathan will be summoned by a female character. Some new concept art can be seen below.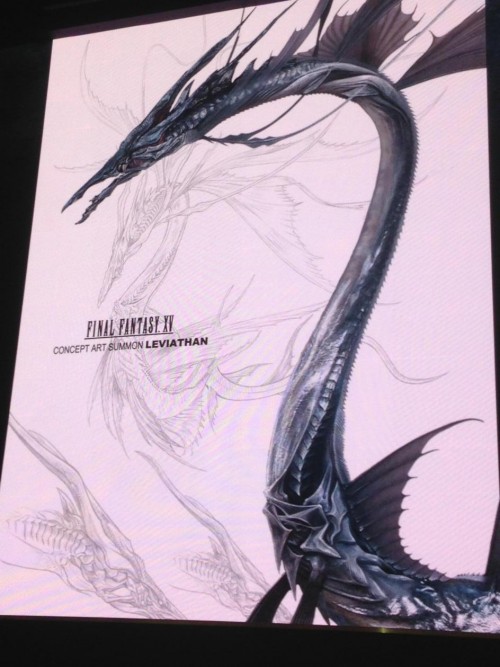 The playable city demo promised by Tabata earlier is also coming. An official forum is being opened as well, in English and Japanese, for fans to submit feedback directly to the development team. It was confirmed that Final Fantasy XV will ship with English and Japanese voices, with others being considered as DLC.
Last but certainly not least, there's some new gameplay footage, featuring the iconic Final Fantasy Malboro enemy, which catches Noctis and company by unawares and provides a swift defeat. Kind of reminds me of running into a high level enemy in Xenoblade... give that a look below! We also have the entirety of the Active Time Report, so you can learn about the game in greater detail.
So, there you have it. Final Fantasy XV will be releasing on PlayStation 4 and Xbox One sometime in the near future.