Summon Night 5 Physical Version To Come Bundled With Soundtrack
And that's the full soundtrack, no mere sampler.
07.31.15 - 1:47 PM
Still in love with your physical game copies and Working Designs-esque goodies? Then read on. GAIJINWORKS previously revealed plans for a physical release of the PSP strategy RPG Summon Night 5, and that, due to the high costs associated with undertaking such a release, they required a certain amount of pledges from fans.
Now, the company has revealed that those who pick up the physical copy of the game will also score the Summon Night 5 soundtrack (in addition to the full-color manual, 19"x14" poster, UMD version with serial numbered hologram on the box, and digital copy for playing PSP or Vita).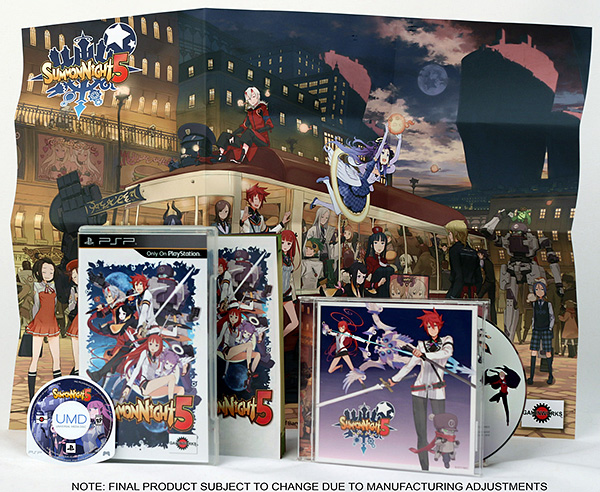 GAIJINWORKS founder Victor Ireland made it clear that this is a big deal, as it's the game's entire soundtrack:
"This is a big deal for us," says GAIJINWORKS founder Victor Ireland. "The Summon Night 5 soundtrack CD is already scarce in Japan, where itís selling for as much as $80 on the secondary market. Fans rarely get a full OST bundled with a console game, and it's virtually unprecedented to get one with a handheld game - especially at this price point."
"This isnít a sampler," Ireland explains. "It's not just some 'selections' from the game, itís the full Japanese OST, an almost unheard-of addition to any game release in the North American market."
The 37-track soundtrack features music composed, arranged, and performed by Pure Sound, Inc., whose work you may know from previous Summon Night and Pokémon games, as well as Yggdra Union and Riviera: The Promised Land.
As for that price point, the game + soundtrack package will be open for pre-order next week at the GAIJINWORKS website for $41.99 + $5 shipping to the US (International shipping will be available, for an additional charge).
It's worth keeping in mind that while Summon Night 5 will be available to all in digital form this fall, the ONLY way to secure a physical copy and the soundtrack is to pre-order. Again, due to the costs involved of the physical version, quantities will be very limited, and only available via pre-order.
To get a closer look at Summon Night 5, be sure to check out our gallery and the game's opening right here: