Spike Chunsoft and tri-Ace Team Up And Announce Exist Archive
Gotta love collaboration games.
07.28.15 - 11:48 AM
This week's issue of Famitsu finally revealed the title of the much teased new RPG from Spike Chunsoft and tri-Ace. The game will be titled Exist Archive: The Other Side of the Sky, and will be available for PlayStation 4 and PlayStation Vita. Exist Archive will be developed by tri-Ace, and published by Spike Chunsoft. It is due out in Japan sometime later this year.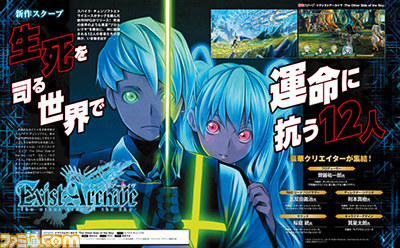 The tag line for Exist Archive will be "In a world that rules over life and death, 12 people go against fate." The recent issue of Famitsu has in-depth coverage on the game including story, characters, settings, and battle system. Their is a lot of great talent leading the development of Exist Archive including producer Yuichiro Saito, lead programmer Yoshiharu Gotanda, character designer Mino Taro, scenario writer Masaki Norimoto, and composer Motoi Sakuraba. With this much recognizable talent, Exist Archive should be something to eagerly look forward too.
The rest of the Famitsu leak should come out soon, so be sure to check back with RPGFan to get all the details as they come in.