Dragon Quest XI Logo Leaked, Announcement Taking Place July 28th
Do you hear that? I think it's the hype train.
07.27.15 - 10:41 PM
With the steady stream of Dragon Quest related news in recent weeks, it should come as no shock that the next main title in the Dragon Quest series is slated for announcement. According to Takashi Mochizuki from the Wall Street Journal, the invitation issued to the media states that Square Enix will announce the first mainline Dragon Quest title in three years, as well as go over other titles in the series. Now it appears as though the official logo for Dragon Quest XI has leaked ahead of schedule.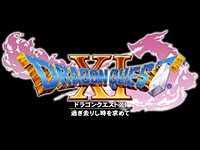 The last mainline entry in the series was Dragon Quest X, an MMO for the Wii, Wii U, and PC that regrettably never saw a Western release. There's no word yet on platforms for Dragon Quest XI, but creator Yuju Horii has said that it will be a console game. The presentation will take place on July 28th.