Story Details Emerge for Dragon Quest Builders
With more info on the Dragon Quest series coming soon.
07.12.15 - 6:34 PM
Over the next five weeks the Weekly Shonen Jump magazine will be focusing on the Dragon Quest series. Since 2016 will be the 30th anniversary of Dragon Quest, it looks like Square-Enix is ready to celebrate. It is already known that Dragon Quest VIII is coming to the 3DS, Dragon Quest XI is now in development and that Dragon Quest Heroes II is be released on the PlayStation 4, PlayStation 3 and PS Vita. Expect new details on at least a couple of these games in the coming weeks.
However, in this week's Jump magazine the focus was the newly announced Dragon Quest Builders, as we get a first glimpse at details on the protagonist, story and gameplay.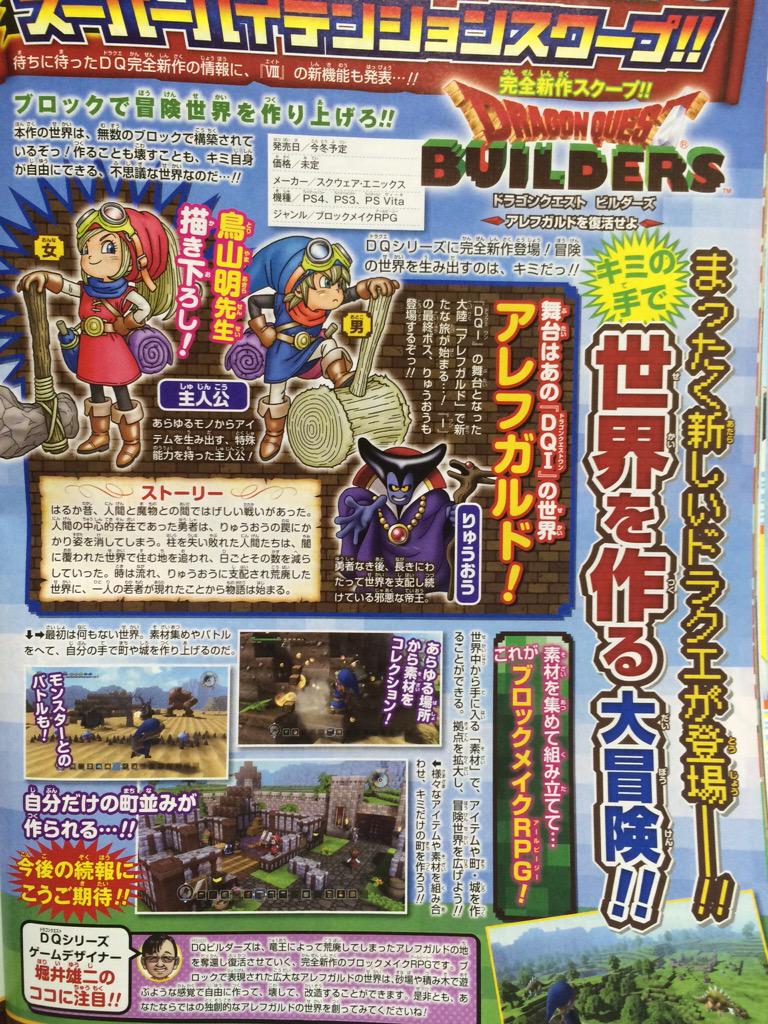 Jump magazine described the plot as, "In the distant past there was a terrible battle between men and monsters. There was a hero, who was a central figure on the human side, who fell into the Dragonlord's trap and was never heard from again. Having lost their mainstay, the humans were driven from the land in which they lived in this dark world, and their numbers decreased by the day. But time flows forward and our story begins when a young person appears in this ruined world ruled by the Dragonlord."
You will play as a boy or girl who has the special ability to create items from all things in an attempt to combat an evil Dragonlord who has been ruling the world since the last hero was vanquished. Dragon Quest series creator Yuji Horii described Dragon Quest Builders as, "a completely new block-making RPG where players must recapture and restore the land of Alefgard after it's destroyed by the Dragonlord. The vast world of Alefgard is expressed through blocks, which players can freely create, destroy, and remodel as if they're in a sandbox or playing with building blocks. Please try to create an innovative Alefgard!"
Dragon Quest Builders is planned to release in Japan this winter for the PlayStation 4, PlayStation 3 and PS Vita.