Final Fantasy XV loses Stella, gains Episode Duscae 2.0 Release Date
A major character from Versus XIII is out of the picture.
06.05.15 - 2:23 PM
We reported earlier that the latest Active Time Report for Final Fantasy XV was live, and that it contained some interesting news related to the highly anticipated next installment in the Final Fantasy series. First off, director Hajime Tabata addressed some fan feedback from the Episode Duscae demo and what players can expect from the impending update. Ideas such as a stamina gauge to indicate when Noctis would tire from running, the potential for and developmental difficulties of implementing aquatic movement/battles (which may play into the Leviathan battle shown in the E3 2013 trailer), and the implementation of sound effects.
Tabata also addressed the transition from Final Fantasy Versus XIII to Final Fantasy XV. The teams goal was to make sure that Final Fantasy XV's story was complete and coherent, and to be as faithful as possible to Tetsuya Nomura's original vision. Unfortunately, not everything made the cut. Biggest of all is that Stella Nox Fleuret, who was heavily featured in promotional material for Versus XIII, is no longer in the game, despite the team's best efforts to make room for her. The new heroine, Luna, serves a different purpose than Stella did, and in the end it was decided to remove Stella's character. The sequence in which the Niflheim army attacks the Crown City of Insomnia while Noctis/Stella are at a party (as shown in a 2011 Versus XIII trailer) has also been removed, with Niflheim now attacking once Noctis and his band of merry men have left Insomnia. The reason behind this change constitutes a spoiler, to Tabata kept quiet as to specifics. Tabata did say, however, that other characters such as the female Dragoon from Versus XIII are still appearing.
Nojima, the scenario writer, had this to say: "As director Tabata just announced, the plot that was developed during the Versus era has served as the basis for the Final Fantasy XV story. I'm sure the story will make many changes as they adapt my draft into a more detailed script, but I believe that the important things I wanted to express will be taken to another level by the XV team. As I express my support, I will be waiting for XV to be completed just like everyone else."
While Final Fantasy XV will turn out very differently than the original Versus XIII project, it's clear that Tabata and company want to focus their efforts on developing the game and make sure the final product is something to be proud of. To that end, Version 2.0 of Episode Duscae will be available on June 9th. We've included an overview trailer for you below.
There was also a new tech demo for Luminous...
...as well as a new piece of key artwork featuring a young Noctis and his father, King Regis.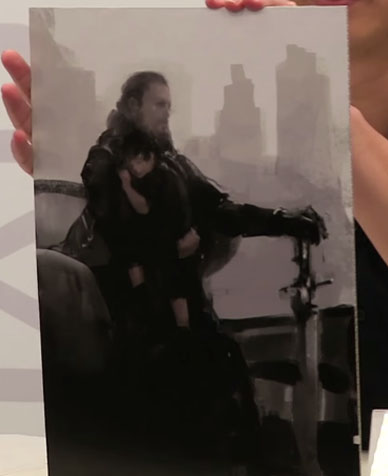 Unfortunately, it looks like we won't be seeing Final Fantasy XV at E3, but will have to wait until Gamescom before Tabata can show anything new. While I'm slightly disappointed at the loss of Stella, hopefully the Final Fantasy XV team knows what they're doing.