New Bravely Second Info, Producer Hints at Localization
New and familiar faces are coming to the land of Luxendarc. Mrgrgr!
01.11.15 - 6:48 AM
There's been a handful of new Bravely Second tidbits lately, thanks to a special broadcast hosted by Dengeki. Among them, there were some details regarding a new job known as Exorcist, which enables the player to undo previous actions and go back in time by up to three turns. For instance, should a character take damage, the Exorcist's 'Undo HP' ability would cause said characters HP to revert to it's prior state. Pictured below is the holder of the Exorcist Asterisk, who seems to be a fairly creepy dude.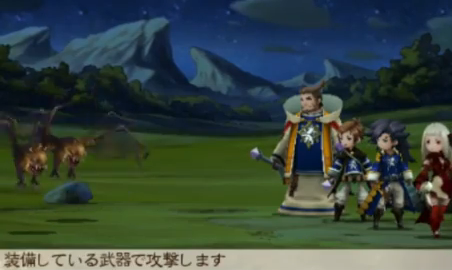 As for familiar faces from the original Bravely Default who will be making a comeback in the sequel, it was revealed that hot-blooded Eternian soldier Edea Lee will be making an appearance, although the extent of her role is unknown at this time. We already know that Agnes' kidnapping lies at the center of the story, and that Tiz will be making an appearance, so that just leaves Ringabel as far as the original cast's reunion is concerned.
Finally, Bravely Second's producer, Tomoya Ayano, made a few passing comments regarding the possibility of the game's localization. While this should in no way be taken as a confirmation that Bravely Second is getting localized, Ayano did say that, in regards to Tomahawk Asterisk holder Aimy Matchlock (who has a very Native American design), they were doing everything they could to give the localization translators a hard time with her distinct accent. It was also brought up that key character Magnolia Arch is a fluent English speaker, and it turns out that she and every character who lives on the moon speaks English as their main language. Again, this should be taken with a grain of salt, but given the success of the first game and the light-hearted nature of these comments, I'm inclined to be more positive!
Either way, Bravely Second will be released in Japan on April 23 for the Nintendo 3DS. We'll keep you posted as more information becomes available!