Final Fantasy Type-0 HD Collector's Edition Unveiled
*hyperventilates*
12.13.14 - 12:06 PM
In another livestream centered on the upcoming HD remaster of Final Fantasy Type-0, Square Enix revealed a brand-new collector's edition for the game, clarified some details about the included Final Fantasy XV demo, and talked about some other nifty pre-order incentives.
The Final Fantasy Type-0 HD Collector's Edition will retail for $99.99, and comes with *deep breath* the game disc, an 80-page art book, a Composer's Selection's soundtrack featuring 15 tracks handpicked by Takeharu Ishimoto, a 200 page manga detailing the characters and history of the game's world, and five of Ace's cards, all packaged in a Golden Steelbook case. Wow! Said Steelbook case also features artwork by famed artist Yoshitaka Amano, as you can see below: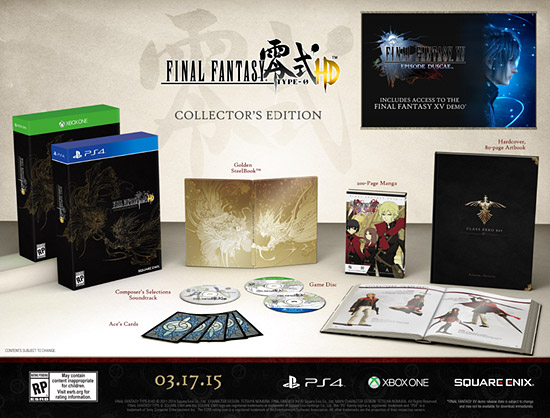 It was also confirmed that the Final Fantasy XV: Episode Duscae demo will be limited to Day One copies of Final Fantasy Type-0 HD, as it is intended to be "a special gift" for those who have been patiently (or not-so-patiently) awaiting these games.
In addition to unveiling the Collector's Edition, Square revealed Final Fantasy Type-0 themed Xbox One and PlayStation 4 consoles. Neither of these will be sold in stores, but those who preorder Final Fantasy Type-0 HD from Square Enix will be entered in a contest to win these and other prizes that you see below. These include canvas prints of Ace & Noctis, a Trading Arts -Kai- mini figure, and a gold-plated Silver Vermilion bird pin.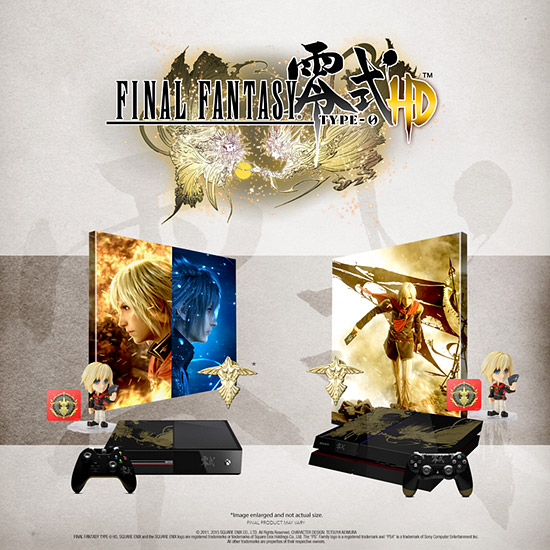 For complete details, head over to the official sweepstakes page.
Final Fantasy Type-0 HD will be released on PlayStation 4 and Xbox One on March 17, 2015.