Drakengard 3's Sister "Three" Detailed
Just don't steal the name "Seven" from George Costanza.
08.02.13 - 12:56 AM
Drakengard 3's sisters have some family issues. We know about "Zero," whose objective is to terminate her other sisters. "One" is set on stopping Zero. "Four" is reserved, but still very promiscuous. And "Five" is extremely greedy. Like I said, they may need counseling. Maybe that's what happens when you name your children after numbers!
According to Famitsu, Three governs the forest country and has a strong following among the soldiers. Her personality is described as languid and lethargic, and doesn't care about things she's not interested in. In contrast, she does care deeply about things she is interested in and doesn't mind that her sister Zero is trying to kill the entire family. Sounds like a nice gal with minimal baggage.
There were also two new weapons shown.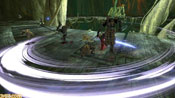 The first, called Battle Ring, has an attack that covers a wide, circular area, perfect for large groups of enemies.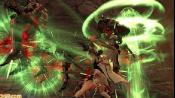 On the opposite end of the range spectrum, Fighting Gear has a minimal attack range. While limiting, the benefits include being the fastest weapon and easiest to form combo attacks.
Drakengard 3 is scheduled to release on October 31st of this year in Japan.