Final Fantasy X / X-2 HD Remaster Gets A Limited Edition Pre-Order Bonus
Take a look at the fancy packaging and artbook included.
07.09.13 - 3:07 PM
Square Enix announced today that North American pre-orders of Final Fantasy X / X-2 HD Remaster will be automatically upgraded to a limited edition version, which comes in the case pictured below and includes a concept artbook, all in one. The 24-page artbook also includes commentary and messages from the original development team and producer Yoshinori Kitase.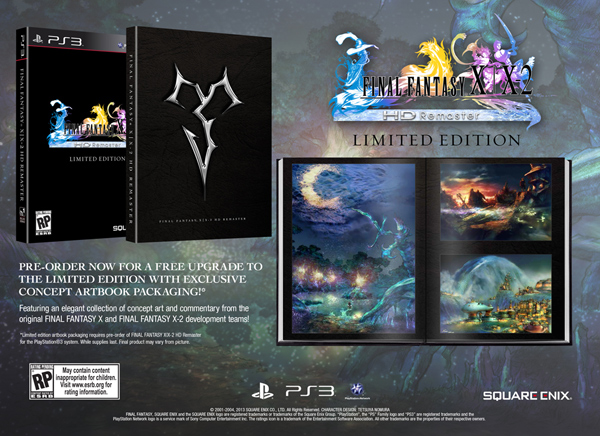 This pre-order bonus so far only applies to the PlayStation 3 version, or at least that's all that's pictured, as the Vita versions of these HD remakes will be sold separately and not as a bundle. They will, however, receive cross-platform support, and it was announced last week that a new 30-minute audio drama, written by scenario write Kazueshige Nojima, will be added to the credits.
Square Enix also sent over a comparison video, which shows the remasters alongside their original PlayStation 2 counterparts. You can watch here, and find some new screens in our gallery linked below.
Final Fantasy X / X-2 HD Remaster will go on sale later this year for $39.99 US.