The Elder Scrolls V: Skyrim Collector's Edition Announced
You knew this was coming.
08.05.11 - 3:06 PM
At QuakeCon 2011, Bethesda announced to no one's surprise, a collector's edition for its (really) highly-anticipated RPG, The Elder Scrolls V: Skyrim. And it's quite the bundle. The pricey edition, pictured below, includes:
A 12'' PVC statue of Aldiun, the World Eater, sitting atop a wall. This statue was created by both Bethesda and the IP Factory.
A 200-page, 9.75'' x 12.25'' artbook, 'The Art of Skyrim' which contains not only art, but commentary from the game's staff and a foreword from director Todd Howard.
A making-of DVD full of footage and interviews that covers not only

Skyrim

's development, but some of

The Elder Scrolls

' history overall.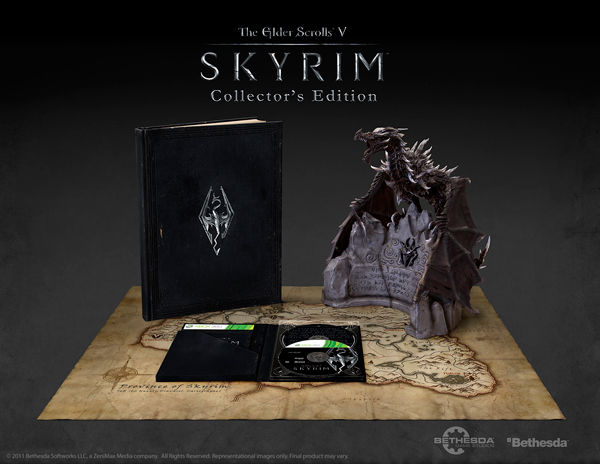 All copies of the game come with a paper map, but pre-ordering nets you a cloth map as well. The Collector's Edition will be made available in rather limited quantities in North America ($149.99 US), Europe (€149.99), the UK (£129.99) and Australia ($199.99 AUD), so Bethesda (as always) suggests pre-ordering ASAP. The Elder Scrolls V: Skyrim (PS3, PC, Xbox 360) releases on November 11th of this year.