Black*Rock Shooter: The Game Gets A JP Date
Start jotting down those summer releases and saving your money.
03.28.11 - 12:50 PM
With Final Promise Story's Japanese release just weeks away, developer Imageepoch is getting ready to release another self-published PlayStation Portable title this summer. After giving Black*Rock Shooter: The Game a vague 'summer 2011' window, the title, based on the anime of the same name, now has a Japanese date of August 25th.
As usual, the game will have a few editions. The regular edition will cost 6279 yen ($76.87 US) on a UMD and 5600 yen ($68.56) to download. There will also be a premium edition that we've mentioned in the past and contains an artbook, soundtrack CD and a neat White Rock Shooter figure from Figma, for 10,479 yen ($128.29 US).
Finally, first-print copies of the retail editions will also contain a White Rock Shooter Chime figure from Good Smile Company, which is quite a super-deformed one: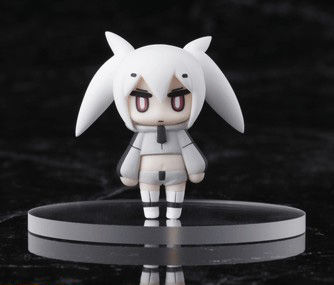 All versions will release on the same day. NIS America has not yet announced any of Imageepoch's titles for the West.