More On That Premium Edition Of Black*Rock Shooter: The Game
And we found another PV of the game, too!
02.09.11 - 4:18 AM
Remember when we mentioned the other day that the Japanese version of Imageepoch's PSP title Black*Rock Shooter: The Game was getting a premium edition (and with a White Rock Shooter Figma figure to boot)? Turns out they later detailed that limited edition on the game's website. The premium box, designed by the game's creator huke, will also include a 'Black*Rock Shooter Artworks' and a limited soundtrack CD.
Here's a better look at the figure: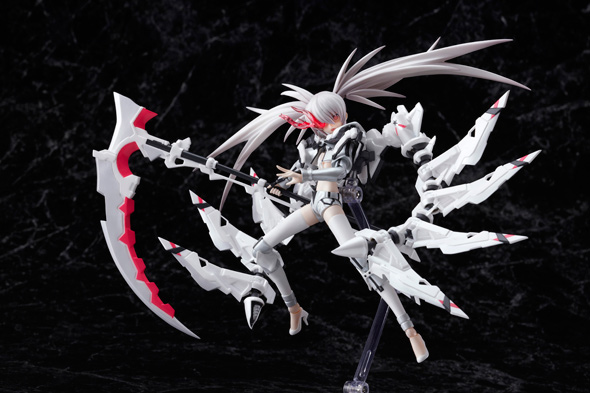 White Rock Shooter apparently has removable face parts (she does have that crazy flaming eye thing going on, after all, as does Black Rock Shooter) and she comes with her scythe and a stand.
While investigating the premium edition's price tag, I managed to come across another PV for the game. Unlike the last one, it shows some more gameplay this time:
The premium box will run 10,479 yen ($126.80 US), and the regular edition is priced at 6272 yen ($75.89 US). Black*Rock Shooter: The Game will be released in Japan this summer. So far, NIS America has yet to announce any Imageepoch titles.