Aya Dresses Up More In The 3rd Birthday
And it looks like the game is getting a digital release after all.
11.17.10 - 8:10 PM
Opinions have been pretty divided on Aya Brea's several The 3rd Birthday costumes so far. But the latest costume reveal is a bit different than the others we've seen as of late, in the sense that she's covered up.. sort of. Introducing the knight costume, as shown off by the pages of Famitsu: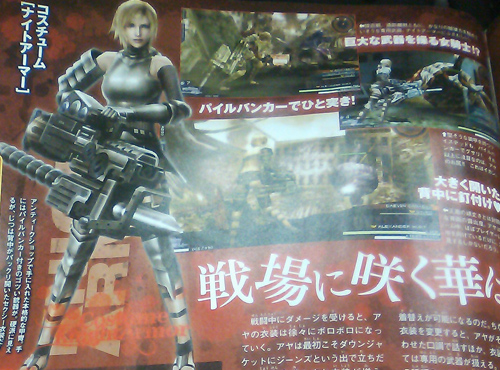 She's not entirely covered up however: the costume exposes her back if you look really closely at the middle screenshot. The massive two-handed gun-like weapon she's toting is called the Pile Bunker, and isn't actually a gun - it's more of a blunt weapon.
Finally, despite a lot of fears that the game would remain UMD-only, Square Enix has decided that there will be a digital release of the PSP title as well. While the UMD goes for 6090 yen ($73.18 US), the digital version will cost 4980 yen ($59.84 US). The 3rd Birthday will be out in Japan on December 22nd and sometime in the next few months in North America.