Aya's Maid Costume In The 3rd Birthday And Other Details
Will the real Aya Brea please stand up?
11.15.10 - 6:09 AM
By the time you beat The 3rd Birthday, Aya Brea may very well have an identity crisis at the end. Because a Lightning costume, a short office skirt among others apparently aren't enough, Square Enix has now given Aya a maid costume. Does that sound out of character to you? Check it out for yourself.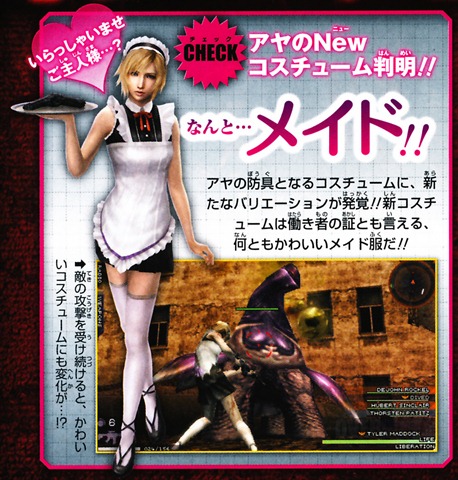 The text in the pink bubble apparently reads 'Welcome, master...'. Like all her costumes, this one will take damage.
The magazine Jump! also detailed what seems like a finishing move for Aya - or at least a very powerful one. If you can catch the enemy reeling from one of your attacks, the triangle button will appear onscreen. (Sounds like a mini-QTE.) Lock onto an enemy and press triangle and Aya will deal a devastating blow to the enemy's consciousness.
Also re-appearing from the first two Parasite Eve games is Kunihiko Maeda, a mitochondria specialist who still has close ties with Aya and has relocated from Japan to New York.
The 3rd Birthday for the PlayStation Portable will be out on December 22nd in Japan, and sometime in the first quarter of 2011 in North America.