Welcome to RPGFan's Top 10 RPGs of 2000. In order to come up with an overall list for RPGFan, we have taken the top 5 RPGs of all the editors on RPGFan and combined them to get an overall ranking. If a game was given 1st place by one editor, that would give this game 5 points, 2nd place gives 4 points and so on. By combining every editor's top 5, we have come up with this overall RPGFan ranking. As you can see, the race was VERY close especially between the first 4 in the list and in the end, it ended up with a tie for 1st place between Grandia II and Skies of Arcadia.
Keep in mind, however that it is impossible to have an accurate Top 10 listing since not every editor have played every RPG so things might have been different if the editors had played all RPGs. With all the RPGs that came out late in 2000 (Skies of Arcadia, Final Fantasy IX, Grandia II, Breath of Fire IV, Persona 2: Eternal Punishment, Lunar 2: Eternal Blue Complete), it's difficult to really come up with an accurate ranking since it's impossible to have played all these RPGs in such a short period of time. So, anyway, here it is! RPGFan's Top 10 RPGs of 2000!
Also, don't forget to check out the individual RPGFan Editor Top 5 RPGs of 2000.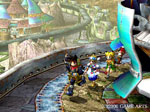 Ubi Soft's Grandia II shares the top spot for RPGFan's Role-Playing Game of 2000. Grandia II is one of those RPGs that manages to do everything right. It's got great visuals, an inspired and varied soundtrack by Noriyuki Iwadare, a good story and some of the best characters you'll ever see. Grandia II also arguably has the best battle system ever, making playing the game a blast since getting into fights never becomes a chore. Add to all this some great voice acting from professional voice actors and a great translation with TONS of dialogue, Grandia II is without a doubt one of the top RPG of 2000 and is deserving of RPGFan's top honors.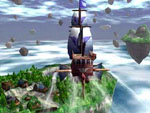 Skies of Arcadia is the second top RPG of 2000 tied with Grandia II for 1st place. SOA is probably the surprise of the year. Although many believed that Skies of Arcadia would be a good RPG given that it was made from the Phantasy Star team, I don't think anybody expected it to fight for the honor of top RPG of the year against bigger hyped titles like Final Fantasy IX, Chrono Cross or Grandia II. However, with great characters, visuals, music, story and some of the best gameplay and level design in years, Skies of Arcadia was able to make its way to the top in 2000 to the delight of Dreamcast's RPG fans. Truly a classic RPG for years to come.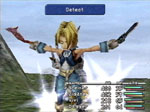 The Final Fantasy series took one final bow this fall on the PlayStation. Final Fantasy IX pushed the PlayStation to the limit with incredible visuals and an engaging storyline. Following the unmatched success of Final Fantasy VII and VIII, Squaresoft made the switch from futuristic settings to a more medieval setting. The return of Yoshitaka Amano's artwork was met with a warm welcome among the RPG community, as artwork often contributes to a game as much as story does. Add Final Fantasy IX to your collection, it's RPGFan's 3rd favorite RPG of 2000.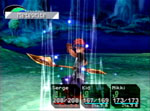 At the number 4 spot is Chrono Cross, the long awaited sequel to the Super Nintendo RPG Chrono Trigger, brought to us by none other than Square. Chrono Cross features over forty hours of gameplay, beautiful polygonal graphics on vibrant backgrounds, a breathtaking soundtrack composed by Yasunori Mitsuda, also known for his work in Xenogears, and a strong storyline that has direct ties to the original game. It is a game that every RPG fan should experience.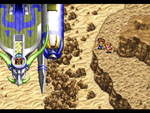 Not surprisingly, Lunar 2: Eternal Blue Complete falls into the top 10. Easily one of the most anticipated games of 2000, the game retains the classic Lunar feel while making subtle changes for an enhanced release on the PlayStation. Sporting a fancy package including a soundtrack and other little extras, Lunar 2 gives you more for your dollar than any game released in 2000. Even if you're not big on the classics, pick it up anyway as part of videogame history.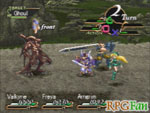 Enix of America's first Playstation RPG places a well deserved sixth in 2000's bevy of brilliant RPGs. Valkyrie Profile introduces refreshing new concepts into the RPG mix such as a Norse mythology-based storyline premise and a revolutionary combination attack-based battle system. Throw in detailed and beautiful sprite-based graphics, smooth execution of the innovative gameplay, and one of the best RPG soundtracks ever, and you've got a can't-miss for fans of the genre.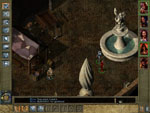 A true masterpiece from Black Isle Studios was released this year, Baldur's Gate II. While the game isn't perfect, the game is a lot of fun. Baldur's Gate II shines with its quests. The quests can all be solved in various different ways and can sometimes be resolved with little or no combat, leading to better rewards. Baldur's Gate II capitalizes on everything that Black Isle Studios has put into it, it's worth your money.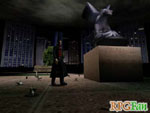 Deus Ex is a First Person Shooter with both RPG and adventuring elements. More than a mindless shooter, Deus Ex features a gripping story and excellent gameplay elements to pull in any gamer. Second only to Baldur's Gate as best PC RPG of the year according to RPGFan's staff, Deus Ex is definately worth playing if you're into the whole Cybernetic/future mood. Even if you're not though, Deux Ex is a great game that should be experienced by anybody with a computer powerful enough to play this very demanding game.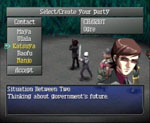 Falling into the number 9 spot is Atlus' Persona 2: Eternal Punishment. This long awaited sequel makes use of absolutely beautiful CG/anime hybrid movies. Graphically, Eternal Punishment features sprite-based characters on colorful 3D backgrounds. Adding to the eerie feel of the game are the sound effects. In conjunction with solid voice acting and an impressive soundtrack, Eternal Punishment has some of the best audio on any game released in 2000. Eternal Punishment is a brilliant game, make it part of your collection.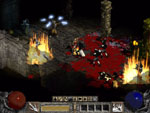 Since its release in the winter of 1996, the original Diablo has been a unique phenomenon in the RPG universe. The game shattered expectations for a PC RPG and turned the heads of even the most hardcore console gamers. Blizzard's Diablo II brings you back to a world haunted by the very lord of hell himself. Diablo II features great online play with up to 8 characters trading and battling at once. With 5 character classes, random dungeons, and online play; Diablo II has a very high replay value.