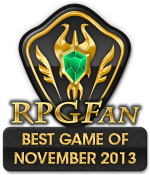 Although most elements of A Link Between Worlds are familiar, the predictability that has recently hampered the timeless franchise fades under a newfound non-linearity. When you reach Lorule, Hyrule's broken shadow, you're free to explore the entire kingdom and enter any dungeon on a whim. The bond between key item and dungeon has been broken and with it the stale path of linear exploration. The freedom is wondrous: it is the awe of a new realm, like outer space, that resurrects the childhood curiosity drawn out of us on the rack of school and work. A Link Between Worlds revitalizes us as much as it does the The Legend of Zelda.
Gorgeously colorful graphics and a phenomenal framerate make Hyrule and Lorule as wondrous to behold as to explore, but it's the impeccable 3D effects for which the game will be remembered. Getting a glimpse of a lower story in a dungeon while fighting on a higher story is unforgettable, and Link jumps out at you when he strikes a wall with the Pegasus Boots. Hidden hearts, fun mini-games, secrets everywhere, a glorious soundtrack, and smooth combat make A Link to the Past one of the best Zelda titles in recent years.
That this is a sequel to a fan favorite makes it all the sweeter, but you certainly don't need to play A Link to the Past to enjoy Link's latest adventure.