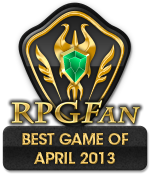 2013 is not messing around.
We're only five months into 2013, and it has already been a solid year for gaming. April in particular gave us a huge spate of RPGs to chew on. While many of those games were excellent, there was one in particular that we felt brought something special to the table: Keiji Inafune and Comcept's action RPG for the Vita, Soul Sacrifice.
The Mega Man maestro's maleficent monster murdering simulator packs in all of the things you'd expect from a Monster Hunter-like title: gruesome beasts, cooperative play, and lots of customization. The fact that it folded in one part Microsoft Game Studios classic Phantom Dust and some well-presented and well-written story and lore were the gory icing on this bloody cake. While it has its flaws, it's undoubtedly one of the most entertaining games in the Vita's slowly growing library, and for that reason, we've decided to crown it RPGFan's April 2013 Game of the Month.
Now if you'll excuse us, we must be going. The memories of fallen souls trapped within our right arm whisper to us.