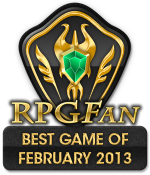 You take a deep breath as your eyes slide across the battlefield, taking in the numbers and positions of your enemies. You don't have to count twice to be sure that you're outnumbered at least two-to-one. And that hulk in the heavy armor standing guard at the gate looks like a seasoned killer. Your friends and family stand ready to obey your any command; they have entrusted you with their lives — and to be sure, those are the stakes you're playing with. One false move could mean the end of a long-running and hard-won friendship forged through the fires of countless battles. One badly-judged strike could be the difference between a casual chat over some ale back at the barracks and an axe in your lover's skull. "But that's war," you tell yourself.
Unless you're playing on casual mode. Then it'll just mean a quick trip to the medic, and off you all go!
And that's the beauty of Nintendo's newest and most lavishly produced Fire Emblem title yet. With its varying difficulties, ranging from cakewalk all the way to "there goes Stephen throwing another rage-fit on Twitter," as well as the ability to disable the series' long-standing permanent death feature, this is a game that manages to maintain the strategic depth of its predecessors while opening up the series to a whole new audience of players. Featuring literally hundreds of varied inter-party pairings and character-building skits, nearly endless (thanks to a stream of high-quality DLC) options for battle, and a huge amount of customization, the game is a massive success for the strategy RPG, and undoubtedly one that will be remembered fondly for years to come.
And that's to say nothing of better-than-its-ever-been visual presentation, full of gorgeous animated cutscenes, varied battlefields, and a massive soundtrack (four discs worth, if the upcoming release is any indication!) of memorable anthems. This is the strategy RPG that 3DS fans have been waiting for, and it doesn't disappoint in quality or quantity. With all that said, it's pretty clear why Fire Emblem: Awakening is RPGFan's February Game of the Month.
And if you're playing on lunatic, remember — "You'll get no sympathy from me."