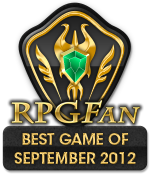 Wub wub wub wub wub wub.
Oh, sorry, that's the sound of us neglecting everything else in favor of shooting stuff. Lots of different kinds of stuff. It's also the sound of different things exploding out of the aforementioned shooted-stuff. Lots of different things. In fact, so much stuff that you couldn't possibly carry it all. But you'd want to, because it's stuff. With numbers. And acid. And fireballs. Oh yeah – some of that stuff shoots acid and fireballs. Sometimes that's not what you want, though. Sometimes you want it to freeze the oft-mentioned shooted-stuff in place and then electrocute it, because electrocution is
awesome
.
If it isn't abundantly clear, RPGFan's September Game of the Month is Gearbox's Borderlands 2. It's everything the original was, but bigger, more varied, and more polished. There were some great releases in September, but this was one that some of our staff just kept coming back to (and in fact, are still coming back to, especially in light of the recently-announced Captain Scarlett and Her Pirate's Booty DLC). The relatively simple main story is an improvement over the original by virtue of the fact that it exists at all, but sharp writing and a bevy of film and game references will keep you hooked throughout. The theme of the game as a whole is one of improvement and refinement: Gearbox has mastered the first-person lootfest.
Cooperative gaming has always had a certain addictive quality to it, and Borderlands 2 scratches that itch with aplomb. Few games can match the pure id-satiating pleasure of a session of Borderlands 2 with some friends, and for that reason, we've selected it as our September Game of the Month.
Now go catch a riiiiiiiide!