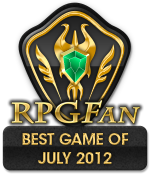 The summer months are normally dry seasons for gaming, with barely anything coming out to distract gamers from the searing heat. This year, however, is a whole other story, with some impressive RPGs breaking the summer drought we're used to. Last month saw the release of Pokemon Conquest (which the staff here affectionately refers to as PokemoNobunaga) and Gungnir, excellent additions to the SRPG genre, with one being accessible to all, and the other being soul crushingly difficult.
This month yields more variety with the mainstream blockbuster Kingdom Hearts: Dream Drop Distance and the niche favorite Growlanser: Wayfarer of Time. While one offers excellent action RPG gameplay with a plodding pace, the other sports a more involved and interesting story and a strategy-based battle system that may be too daunting for some. Both were highly anticipated by their respective audiences and we here at RPGFan are very satisfied with both games.
It was a difficult decision, but after much deliberation, Kingdom Hearts eked out a bare victory over Growlanser, with its intense and enjoyable battle system winning out over Growlaser's more methodical and strategic gameplay style, despite having an inferior story. Kingdom Hearts may have taken home the gold this month, but Growlanser came behind by a hair and recieves a very close second.