Masahiro Sakurai Demonstrates Dragon Quest Hero in Super Smash Bros. Ultimate
The Hero, a new stage, and more are on the way later today!
07.30.19 - 4:31 PM
During a livestream-style broadcast earlier today, Masahiro Sakurai presented the next entrant in Super Smash Bros. Ultimate's mighty roster — the Hero from the Dragon Quest series! With four heroes represented directly, including protagonists from Dragon Quest 3: The Seeds of Salvation, Dragon Quest IV: Chapters of the Chosen, Dragon Quest VIII: Journey of the Cursed King, and Dragon Quest XI: Echoes of an Elusive Age, along with four costumes paying homage to four other heroes, players will be able to wield the might of Dragon Quest in Super Smash Bros. for the first time! You can see all of the details in the full video below.
In addition to the hero, players who purchase the DLC, or receive it as part of the Fighter Pass expansion, will have access to a new Dragon Quest XI-inspired stage, Ygdrassil's Altar, and eight orchestrated music tracks from the series. A new wave of Mii Fighter costumes is on the way, too, adding new outfits like Veronica, Martial Artist, a Slime hat, and more which will be available to purchase separately.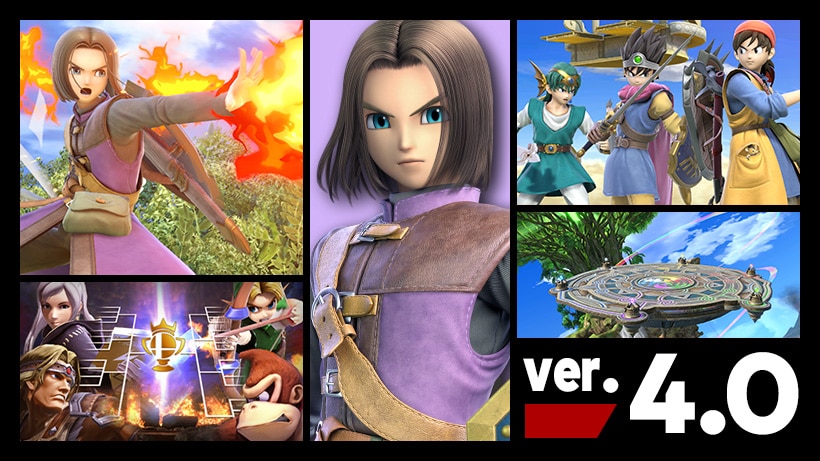 The Hero, Ygdrassil's Altar stage, Mii Fighter outfits, and other new additions like a "Very Easy" difficulty setting for story mode, Final Smash meters that drain, and new features for spectator mode are on the way to Super Smash Bros. Ultimate later today, July 30th, as part of the game's version 4.0 update. Those who already own the Fighters Pass expansion content will be able to download the Hero and the new stage immediately upon release, with the Fighters Pass and the individual fighter content available for purchase as well.
Super Smash Bros. Ultimate is available now on Nintendo Switch. For more on the Fighter Pass, including previous and upcoming fighters, be sure to check out the official website.
Related Link(s):