Final Fantasy Explorers Gets a Japanese Release Date
Not to mention Ramuh, Fenrir, Time Mage, and Ninja.
08.20.14 - 10:36 PM
Hot on the heels of our most recent story regarding Paladin and Hunter, additional information has surfaced regarding Final Fantasy Explorers.  
First up is the obvious announcement of a release date!  Final Fantasy Explorers has officially been confirmed for December 18th in Japan for the Nintendo 3DS.  While this is great news for fans of the title in general, no Western release has been announced just yet.  However, a recent scan in Jump Magazine showcases additional information regarding the winter release.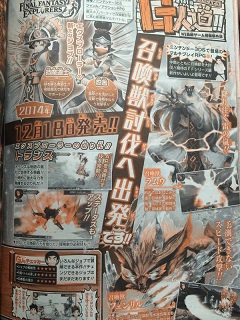 Pictured in the top left are both the Time Mage and Ninja job clases.  Just below them is a small blurb on the "Trance" system, which will allow players to temporarily use special attacks without costing them AP.  It can also grant buffs to players as well.  However, since this is all we have to go off of, we don't have much more information on this exciting new feature just yet.
To the right of these are both Ramuh and Fenrir, which are both sure to be bosses throughout the title.  Unfortunately these are the only images we've been able to find so far, but we'll do our best to keep you posted as more information becomes available!
Final Fantasy Explorers releases on December 18th this year in Japan for the Nintendo 3DS.