Demon Gaze Gets Release Date, New Media
New screen shots, and a look at the limited edition packaging!
01.24.14 - 12:27 PM
NIS America announced its plans to bring Experience's Demon Gaze to the West back in July. Now, the PS Vita dungeon crawler has a release date: North American players will be able to play the game on April 22nd, while European players get it 3 days later, on April 25th. The game will be available in both retail and digital forms, although if you're a fan of bonus goodies, you may want to lean towards the retail version…
Before we get to that though, take a look at the first English screen shots in our Demon Gaze gallery. We also have a first look at the game's packaging, including the limited edition version seen below, complete with soundtrack, a "Mercenary's Guide," and a spiffy box to keep it all in. See it here, or visit the gallery for a large version: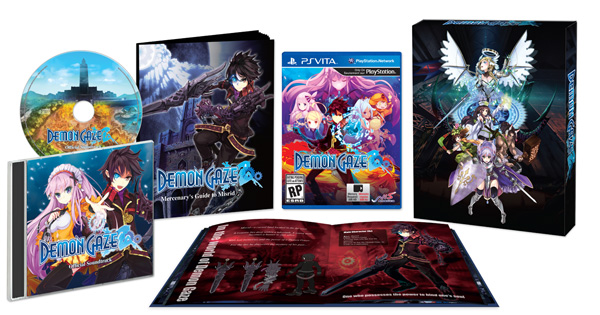 Look for more coverage on Demon Gaze as April draws near!