Watch A Character Intro Video For Valkyria Chronicles 3's Imca
Also a new Nameless character and all sorts of bonuses.
12.10.10 - 2:32 AM
If you haven't had enough of Valkyria Chronicles 3 news this week, we've got yet another dose. We've seen character intro videos for protagonists and Nameless Squad members Kurt Irving and Riela Marcellis. But Imca (Number 1), whose village was destroyed by Valkyrias, is also a key character to the game, and SEGA finally has a video dedicated to her as well.
The pages of Famitsu also introduced the Nameless' latest member, a tank driver named Gusrug. He's also your only tank driver, so treat him well. Meanwhile, the army supply shop is run by Carisa Contzan. You can equip both tanks and characters with weapons, and accessories will also be available, and what your characters equip will change their in-game appearance.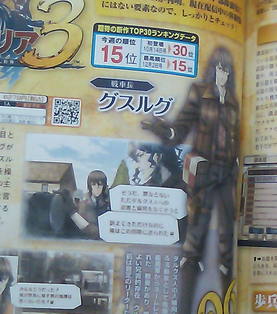 Finally, much like Disgaea 4, Valkyria Chronicles 3 has a wide array of retail bonuses depending on where in Japan you purchase the game - far too many for this page, so they have their own separate page here. Most of them are tosho and telephone cards, and if nothing else they're worth checking out for the art and... the many different ways they could make the girls well-endowed. The designs are by character designer Rita Honjou, with some from Production I.G.
Valkyria Chronicles 3 for the PlayStation Portable will be out in Janaury in Japan, while we still wait for a North American announcement.