Grandia II News!
Game Arts will have a booth at the Tokyo Character Show held on July 22nd-23rd. For the occasion, they will present a new lineup of Grandia II goods! First, we have a new series of Telephone Cards (1,200 yen each):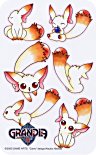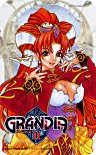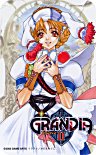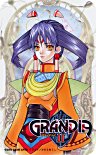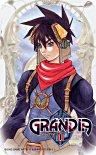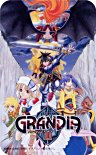 A Caro Mousepad (800 yen)

A Poster (looks like we have another fan of Alfons Mucha here), 800 yen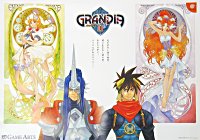 Postcards, 450 yen for the set of five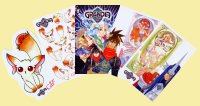 ...And a Caro towel, along with figures of the three Grandia II heroines: Elena, Mileenia and Tio. The towel comes in five colors and costs 700 yen. So if you're interested in Grandia II merchandise, don't miss the Tokyo Character Show! And bring me back some Grandia II goods, please :P
A funny tidbit about Grandia II... While the main character designer is Kanoe Yuushi, another artist, Atsuko Nishida, was asked to make the illustrations of the mascot pet Caro. Atsuko Nishida is better known for her work on the animated version of... Pokémon! Is Grandia getting pokémon-ized?
Speaking of Caro, we have some new information on this character, along with Selene and Zera's descriptions. We also have the story of a newly revealed character, Tio. Game Arts has yet to reveal information on one last character, a man seen on a Grandia II poster.
Caro

Lives in tunnels and caves, sporting a huge, luminous tail which looks like it could light up dark dungeons. Liking dark places but not understanding sophisticated things, he may get along with Rudo and his party and be of some help to them in their journey.



58 years old
166 cm
89 kg
Zera Innocentius

The supreme lead of the Granas church, a retired emperor. The central personality of the main religion on this world, he is known by everyone. In the Temple of Granas, begging for people's happiness and prosperity in order to save a cursed world, he keeps praying to the holy god Granas. People who have met him have been touched by the kindness of his merciful heart. Noticing disasters strike one-by-one throughout the world, his heart is pained and his expression darkens....



23 years
172 cm
47 kg
Selene

The head priest of the Church of Granas. High-spirited and beautiful, a lot of things make her an attractive person. While her smile conveys tenderness, her shining eyes reveal a strong will, which demands justice. Despite this nice appearance, when facing the Devil Valmar's allies, she can also appear as an implacable inquisitor. In order to prevent the restoration of Valmar, she has been patrolling around the world accompanied by soldiers under her orders. She and her soldiers are known as "Granas' Iron Hammer."

Tio

Survivor of an ancient war between good and evil, this automaton goes by the name Tio. Although she possesses calculation abilities, it seems she can only act when she is given orders. She can perform a number of things like cooking, but she's still struggling to understand human nature.

And here's some information on the world of Grandia II, translated by AD editor ElfShadow!
World of Grandia II

An age of silver and white light had ended, a thousand years since the battle between gods and devils.... The world was entering an age of crimson twilight....

But, to this day the world retains the scar of the battle. At the edge of the continent of Shreesan in Grancliff, the prosperity of the people has been obstructed; but for a long time, the people sufficed with living humbly as a temporary solution. However, in truth this measure had begun to weigh heavy on the hearts of the people; an insuppressible unease
inspired by nothing other than the devil Valmah fixing his gaze upon the world of the heavens. And in the second month....

Granacliff: In this world, a great fissure scatters the people thoughout the crevices. Its spread comprises more than a kilometer. No one knows just how deeply it goes down into the nether regions. Because of this fissure, trade throughout the region of the fissure became quite infrequent. Undisturbed since the battle between the gods and devils a thousand years ago, this is the remaining scar on the world.

Kabo Village: A country village encircled by a forest. A small church stands within. The villagers spend the majority of their lives within the confines of the village. Also, Elena, "Songstress of Granas," plies her trade in this village. Recently, each night, uneasiness has plagued the villagers.

While Ubi Soft is working on the english voices of Grandia II (see our story about it), the dubbing has already been finished in Japan. Curious to know who will be playing Rudo and his friends in the Japanese version? Scroll down and check out our Grandia II seiyuu chart!
Grandia II Cast


Rudo

Voice Actor:
Shoutarou Morikubo

Previous Roles:


Orphen (Sorcerous Stabber Orphen)

Cecil (Record of Lodoss War ~ Eiyuu Kishiden)



Elena

Voice Actress:
Hiroko Konishi

Previous Roles:


Sae (Mahou Tsukai Tai!)

Akane (Dr Slump [new])

Margarett (Early Reins)

Lisa Silverman (Persona 2: Innocent Sin)

Lena (Magic School Lunar)

Sophia (Mistumete Knight)



Milleenia

Voice Actress:
Miwa Yanagihara

Previous Roles:


Matsumoto (To Heart)

Rie Nakayama (Roommate)

Miko (Kakyuusei)



Loan

Voice Actress:
Kyoko Tsuruno

Previous Roles:


Dante (Romeo's Blue Sky)

Fatora (El Hazard)

Elliot (Growlanser)



Maregg

Voice Actor:
Daisuke Gouri

Previous Roles:


Borgan (Lunar 2: Eternal Blue)

Yokihiko Oota (Sakura Taisen 2: Kimi, shi ni tamou koto nakare)

Vargas (Langrisser I & II)

Gyumao, the turtle (Dragon Ball)

Mr Satan (Dragon Ball Z)



Sky

Voice Actor:
Yukitoshi Hori

Previous Roles:


Gin, Michio Morioka (Detective Conan)

Vulcan Raven (Metal Gear Solid)

Tatsumi (Saint Seiya)



Zera

Voice Actor:
Osamu Saka

Previous Roles:


Son Gohan (Dragon Ball Z)

King Faan (Record of Lodoss War)



Selene

Voice Actress:
Misa Watanabe

Previous Roles:


Tsuchigumo (Sakura Taisen 2: Kimi, shi ni tamou koto nakare )

Yui's mother (Fushigi Yuugi)



Tio

Voice Actress:
Junko Iwao

Previous Roles:


Celes (Ayashi no Celes)

Tomoyo Daidouji (Card Captor Sakura)

Key (Key the Metal Idol)

Mima (Perfect Blue)

Kotori Monou (X)

Mint (Tales of Phantasia )

Shelfaneel (Langrisser IV & V )

This concludes our (lengthy) Grandia II update. The game's being released in less than 2 weeks, on August 3rd in Japan, and is scheduled for a Christmas 2000 in the US! Until then, you can check out some new artwork of the game and the products mentioned above!

Date Updated:
July 22nd, 2000
Time Updated:
8:14 PM


Feena