Enter the Trails of Cold Steel III Jacket Contest!
If you win, you can "steel" yourself from the "cold" this winter!
07.04.19 - 12:04 AM
As we come closer to the western release of Trails of Cold Steel III, NIS America is pumping up the excitement by introducing a brand new contest! From July 1st until September 2nd, fans can enter into an exciting drawing, with winners announced every week.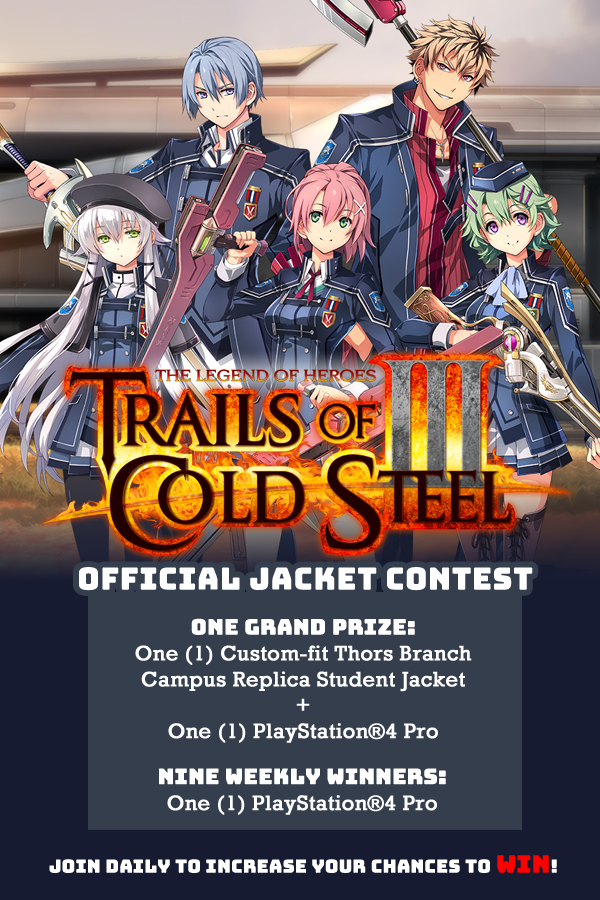 Nine lucky contestants will win a PlayStation 4 Pro, with one grand prize winner winning a PlayStation 4 Pro and one custom fit Thors Branch Campus Replica Student jacket! A one of a kind item like this would make a great piece for your gaming collection! If you'd like a shot at winning, you can enter the contest here. Make sure to log in every day to increase your chances of winning!
NIS America also released a new trailer for the game, dubbed "Trial By Fire."
If you're curious about Trails of Cold Steel III, why not check out the first two entries in the series? Check out our reviews for the first and second games in the series!
Trails of Cold Steel III is set to release for the PlayStation 4 on September 24th in the U.S and September 27th in the UK. Stay tuned to RPGFan for more news and info on the Trails series!