World of Final Fantasy: Meli Melo Announced; Opening Movie and Details Released
More chibi Final Fantasy coming to your pocket.
11.29.17 - 10:32 PM
Square Enix announced their latest mobile title World of Final Fantasy: Meli Melo via Weekly Famitsu. The game is a monster training RPG that is free to play and will have micro-transactions. It is currently scheduled to release sometime in 2017 in Japan. Check out the announcement trailer below.
"Valgallan." There is a world where legendary beings called Mirages and small people known as "Lilikins" coexist.
The earth, which is said to be "the source of all energy," is divided into five magical powers—"fire," "ice," "forest," "light," and "dark"—and is protected by five "Mythical Beast Kings" who specialize in each power.
However, the "day of calamaity" will come…
During the ceremony celebrating one thousand years since the founding of the Baron, King Cecil was suddenly swallowed up by darkness and went missing.
And so the [Player] was summoned to Valgallan.
With their "Garden User" ability that enables them to befriend Mirages, the [Player] will go on an adventure to change the fate of destruction engulfing the world.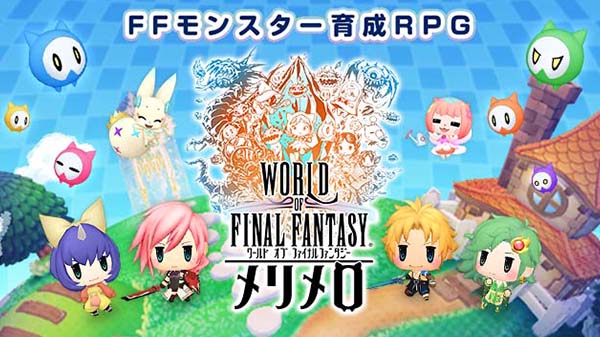 Mirages will be trained with gems called "Rise" that are acquired throughout the player's journey. Each creature will have unique stats and can be raised to learn different abilities, allowing players to customize their monsters.
Battles progress automatically and are dependent upon Mirage's strengths and weaknesses. Teaming up specific monsters will activate special attacks that are dependent on the Mirage combination. Additionally, "Mega Mirage Summons" can be performed with the correct combinations as well as "Champion Summons" were a Final Fantasy chracter will assist the party with a powerful attack.
Additional features include "Dome Challenge" where four friends can participate in a battle and get exclusive Mirages and growth items. A manga version of the game's opening can be unlocked and can be read from the "Garden"
Finally, Square Enix released the game's opening movie. See it below.