Final Fantasy XIV's Latest PVP Mode, Rival Wings, Launches Today
It's also an exciting day for Bards...
11.21.17 - 11:04 AM
You know those nights. The nights where you think, "Well, today was a busy day, so I'm going to unwind with [Online Game]," thoughts which always line up with a scheduled 8-hour maintenance window? That was my evening, and at least one of my fellow editors felt the same.
Of course, maintenance means updates, and in this case, it meant Final Fantasy XIV's Patch 4.15, which is largely focused on the all-new PVP mode, Rival Wings. If you've moved onto Stormblood but still long for some of the architecture of Heavensward's Dravanian Hinterlands, listen up, since that is the setting for this one:
Rival Wings is a 24-v-24 player match, wherein each team's goal is to infiltrate and destroy the vaguely-Carbuncle-styled "core" (seen above) within the opposition's base. This means first destroying protective towers, and engaging with a squad of mammet soldiers, and if these are acquirable minions, I may actually have to play PVP for once:
So cute! But if "cute" isn't your thing, you'll still be glad to know that by fulfilling "certain" conditions, there's one more aspect to Rival Wings that can help you turn the tide, and that's the ability to take control of goblin machina in battle. Anyone who played through the Alexander raid will recognize that these machina are basically miniature versions of some of the bosses there, so there's a definite level of satisfaction that's sure to come from wielding their powers:

This patch also kicks off Season 6 of The Feast, another PVP mode, which is cool and all, but let's talk about bards.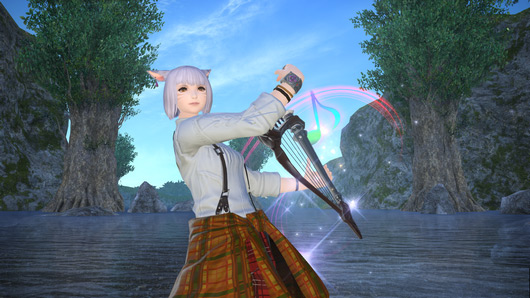 Starting today, our musical class will gain access to a completely unique feature, allowing players to play music; not as they currently do, with song "actions" that work like casting magic, but by actually selecting and playing notes: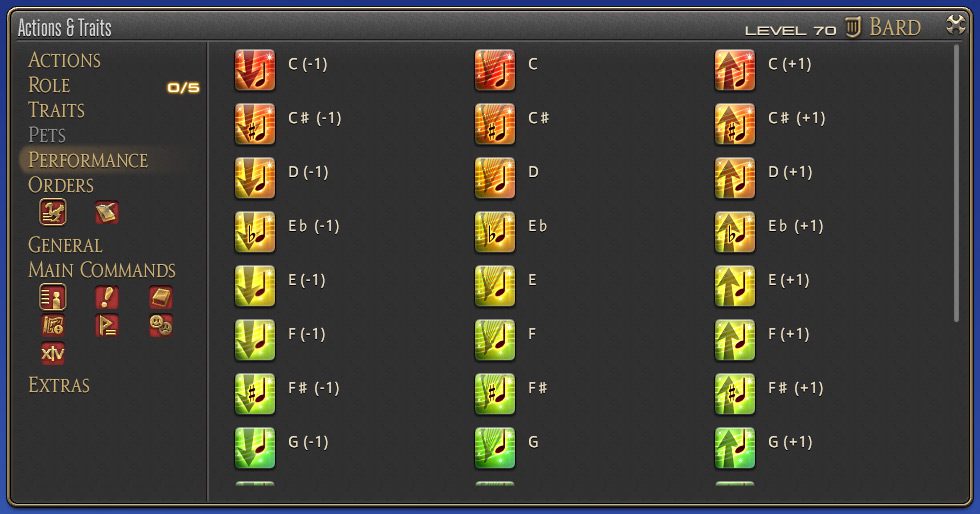 This "Performance" system is meant to only be the initial rollout as well, with more actions and instruments (!) planned for future updates. Square Enix strongly encourages players not to perform copyrighted music, in particular in streams and YouTube content, for legal reasons. I can only imagine how many players right at this moment are playing the Final Fantasy VII main theme in-game... Hopefully this doesn't cause any friction, and the feature is allowed to survive, because I want to live in a virtual world where I can party up with my friends and make an Eorzean band where we... uh, don't learn to play the full opera from Final Fantasy VI (but secretly learn to play the full opera from FFVI, just in the comfort of our FC basement).
Finally, there's a decent selection of other updates one can learn about in the full Patch 4.15 Notes, such as adjustments for colorblind players for the Black Mage job gauge, some small adjustments to actions on six jobs, and a smattering of fixes (yes, that HUD error from patch 4.11 has been fixed).
The next major update to Final Fantasy XIV will be Patch 4.2. While details are scarce, that patch will likely hit near the end of 2017 or early 2018 and include, among other things, the next tier of the Omega raid. With the current battles all being themed after Final Fantasy V, one wonders what theme the next set of battles will adopt...