Persona 5 Will Introduce Some Interesting Gameplay Updates
Don't worry, you can still go on dates.
08.18.16 - 1:12 AM
Atlus has recently released a crush of gameplay videos for Persona 5 demonstrating familiar elements like combat and social link activities. The most recent shows the protagonist out to the movies with his companion, the bespectacled Futaba Sakura, seen below. All in all, scenes such as these should be pretty familiar to fans of the past two games.
However, a recent Famitsu has details on some other gameplay elements that appear to be getting an update.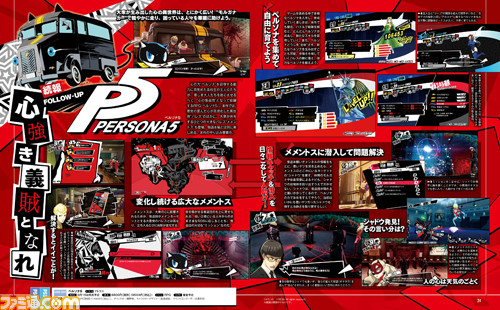 First of all, the Memento Dungeons are randomly generated dungeons where the heroes can sharpen their skills against shadows based on the hearts of the general public. Though prior games also had random dungeons of course, the Memento Dungeons contain quests that will reform the shadows contained therein, which will change based on external factors in the game world like the weather.
Personas will naturally make a comback as well, but this time they will gain bonus XP based on the level of your relationship with Cooperation Characters. In addition, as Personas acquire more skills their capacity to transfer more skills during Persona fusion will likewise increase. And in a welcome change, players will be able to choose which skills to pass on during fusion.
Speaking of, Persona fusion will have a number of new tweaks. With a macabre naming scheme to match the game's penal theme, fusion now occurs at the "Guillotine." The three forms of fusion are the Two Body Guillotine, the Group Guillotine, and the Search Guillotine. Though the first two are pretty self explanatory, apparently Search Guillotine allows players to summon certain Persona from a book of illustrations. That isn't all you can do at the Guillotine though. Three other modes allow you to modify your Persona to gain an advantage in battle. Hanging will sacrifice one Persona to grant XP to another, and Persona of the same Arcana will grant bonus points. Electric Chair also sacrifices a Persona, but for a powerful item or tool. Finally, Solitary Send-off will remove a Persona from your available pool for training to learn new skills or fortify weaknesses. As you improve your Co-op level the requisite number of days for training will fall for the corresponding Arcana.
Persona 5 comes out on PS3 and PS4 on September 15th in Japan and February 14th in the west.