Final Fantasy XIV Letter From the Producer Live XXIX Wrap-Up
A Yo-Kai Watch collaboration is on its way, also Vivi put some clothes on!
04.30.16 - 9:53 PM
Another Final Fantasy XIV Letter From the Producer Live has come and gone, and director and producer Yoshi-P has left fans of the game with some insight on what to expect in the upcoming 3.3 patch. Titled "Revenge of the Horde," the new patch will contain the standard patch affair that accompany any odd numbered patches. This includes new main story quests, side story quests, a new 24 main raid, 2 new dungeons, and will also include a few all-new goodies for players to sink their teeth into.

So it comes as no surprise there will be two new dungeons for Patch 3.3. The first one up is a new main story dungeon named Sohr Khai. It seems to take place in the Churning Mists, and possibly will have players seeking out the help of Hraesvelgr in order to combat Nidhogg's horde. The second dungeon is Hullbreaker Isle Hard Mode, which seems to have become a training ground of some sorts after we cleared the place of the Kraken in our first visit. The second installment of the Mhach 24-man raids will debut in this patch with the Weeping City of Mhach. You can catch a sneak peek at all three instances in the video below starting at 11:32, and screenshots above.

Two side story quests will be featured in 3.3 which include everyone's favorite inspector extraordinaire Hildibrand, and the continuation of the Anima Weapon quest. This upgrade to the Anima weapons will finally allow players to customize their weapons' stats which was a feature the original relic quest added that really made the weapon stand out from its raid counterparts.
Anyone that was played though Heavensward can easily tell you of their unbridled hatred of all things moogles at this point. The almost never-ending hide and go seek quests the little buggers kept churning out was maddening, and it seems Yoshi-P and company want to restore their reputation with the new beast tribe quest that will star both the cuddly moogles and the dragons of the Churning Mists. Hopefully after questing with them this time they won't leave players ready to tear their hair out.
Two new additions to the game coming in patch 3.3 and 3.35 respectively will be The Aquapolis and the Deep Dungeon. The Aquapolis will be a dungeon that players have a chance of entering after opening a Dragonskin treasure map. Your objective in this mini-dungeon is to defeat all enemies to get loot, but both the treasure and which rooms open up in this dungeon will be random. The Deep Dungeon on the other hand, which was revealed at PAX East last week, will come in patch in 3.35 and is Final Fantasy XIV's attempt at an endless dungeon. Your objective in the Deep Dungeon is to descend as far as you can while collecting gear as you go. Certain floors will act as save points in case your party wipes, and some floors will contain bosses. Item level and gear from outside of Deep Dungeon will have no impact on your ability to descended the depths. Yoshi-P has said the Deep Dungeon will be expanded on in future patches with more floors being added all the time.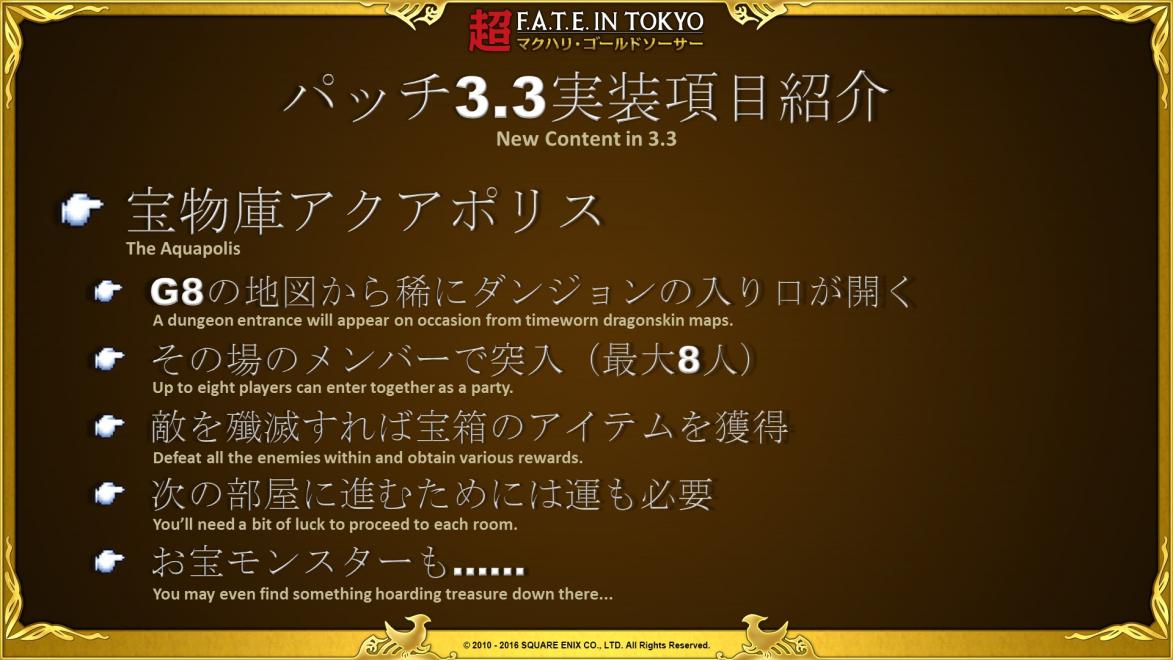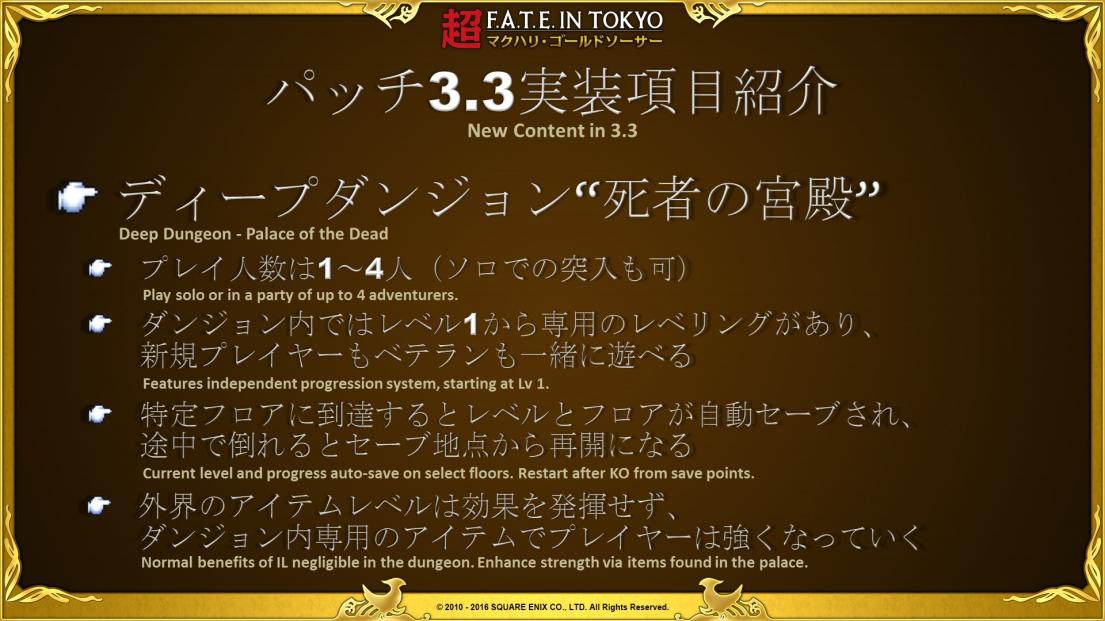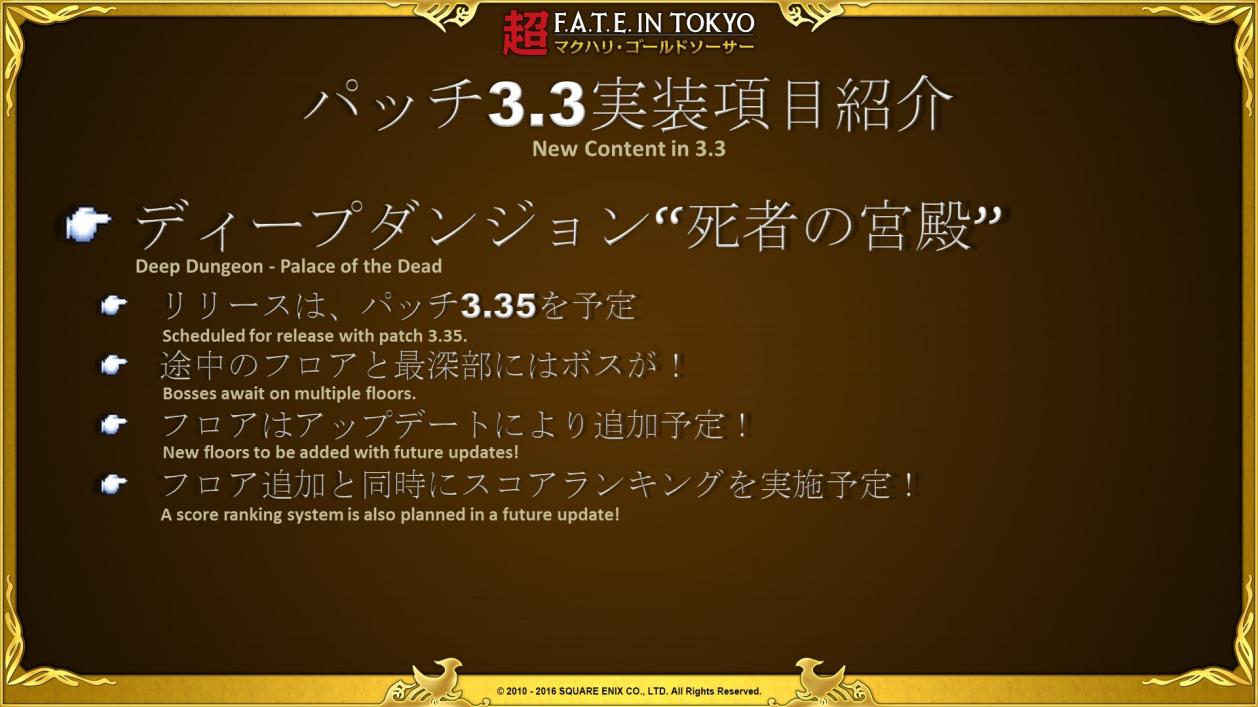 New housing additions and features are also planned for 3.3, as well as new plots of lands for those adventurers that haven't been able to obtain a house yet. The long-awaited Raid Finder will be added to the game so players looking to raid can specify certain requirements or specify certain parts of the raid that players joining should have knowledge on before joining the party. A cross-server Party and Raid Finder (something even more widely-requested) is also in the works but will not be implemented until 3.4 at the earliest.
Level-5's CEO Akihiro Hino joined Yoshi-P for this Live Letter to introduce the new Yo-Kai Watch collaboration event that will be coming to Final Fantasy XIV. This collaboration event will not only allow players to collect minions from the Yo-Kai Watch games, but also obtain weapons based around the various Yo-Kai. If that wasn't enough, we will also be able to obtain a new mount from the event as well. You can check out all the weapons and minions below along with a video of the very weird new mount at 1:17:37 or so.

Be sure to check out our updated Heavensward gallery for even more images from this Live Letter, including the full suite of Yo-Kai Watch weapons. There is no release date yet for Final Fantasy XIV Patch 3.3, but it's likely to come within the next month or so. Check back with RPGFan as we learn more about Patch 3.3 in the near future.