Sword Art Online: Hollow Realization Announced for PS4, Vita
We've got all the details and screenshots right here!
10.12.15 - 5:08 AM
During the Dengeki Bunko Fall Festival 2015, Bandai Namco took to the stage to announce the fourth game in the Sword Art Online series, Sword Art Online: Hollow Realization for the PlayStation 4 and PlayStation Vita.
According to series creator, Reki Kawahara, this new game will feature the "origin story" of Aincrad. Here are the story details from the official website.
The rebuilt virtual world—one that "people" did not ask for in this world.

I logged in. This world that feels familiar. The world of origin. A "world" that is not the same as the one we live in.

The year is 2024.

Set world is set in a floating castle called "Aincrad," in a VRMMORPG called "Sword Art Online," or "SAO," where game over=death. This game was cleared by a player named Kirito, and the virtual world was destroyed.

An incident called the "SAO Incident" has brought a giant ripple to the company.

Some time has passed since then—.

The "NerveGear" hardware that put the lives of players at risk has since then been changed to the "AmuSphere" hardware, bringing virtual reality to complete safety.

With research for new possibilities using virtual reality, a new game was made on Sword Art Online's former server. This game is called "Sword Art: Origin", also known as "SA:O."

In this VRMMORPG that brings back memories of past incident, Kirito receives a single message.

"I'm back to Aincrad."

This is the beginning of a new adventure for Kirito and his friends.
The story revolves around the mysterious girl in the background of this image. Check out these screenshots and more in our wonderful gallery.
Here is the announcement trailer:
If you are thinking to yourself, "This game looks great but I don't want to play it with my boring old PS4," Bandai Namco has you covered. The "Aincrad Model" special edition PlayStation 4 will be releasing in Japan on November 19th for ¥42,980 ($360 US). The system will be bundled with Sword Art Online: Game Director's Edition.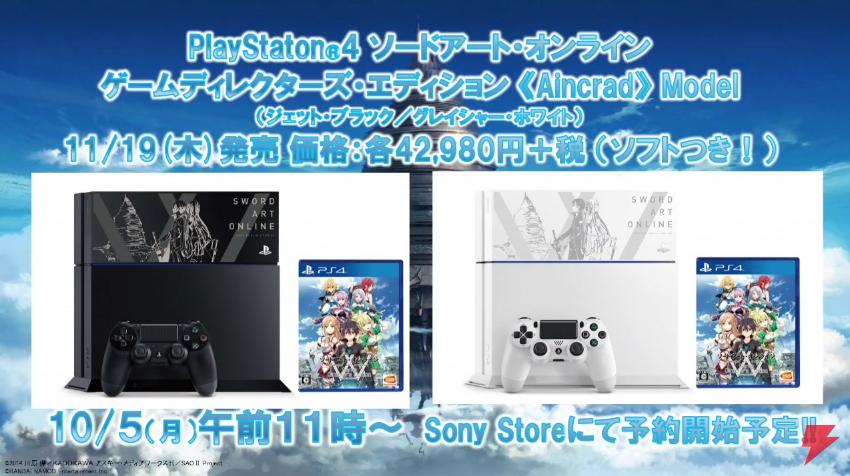 Sword Art Online: Hollow Realization is headed to PlayStation 4 and PlayStation Vita in Japan during the Spring of 2016. Stick with RPGFan for all of the latest SAO news.