Here's Stella Glow's Song Magic in Action
And a closer look at the shiny launch edition!
09.26.15 - 6:40 PM
Atlus may have had to delay Persona 5 into 2016, but they have no shortage of games coming this fall: Legend of Legacy hits the 3DS on October 13th, and Stella Glow isn't far behind, releasing on November 17th. Atlus recently released a new trailer highlighting one of Stella Glow's key features: Song Magic. These melodies are key to battle, as well as being part of the plot itself, as the world's five witches - including the villain Hilda - are the only beings capable of performing Song Magic.
As you can see in the video below, protagonist Alto plays the part of "conductor" with his witch allies to enact these musical magics. Personally, I think waving a baton like a traditional conductor seems less painful than what's going on here, but then again, I've never tried to cast Song Magic.
If Stella Glow's mechanics and vibrant visuals piqued your interest, you might also want to know about the game's launch edition. Just like Legend of Legacy, Stella Glow's launch edition will come packaged in an oversized box with unique artwork. Besides the game itself, Inside this lovely box you'll find:

A 5-track Song Magic CD featuring the theme songs for each of the five witches.
A "large" (no word on the exact size) poster featuring

Stella Glow

's antagonist Hilda. The poster is made of cloth, for durability and to avoid the creases you'd get in a paper poster.
A Bubu Flexi-Charm - a 3" x 3" soft vinyl "pork-riffic" charm modeled after the witch Popo's adorable pet.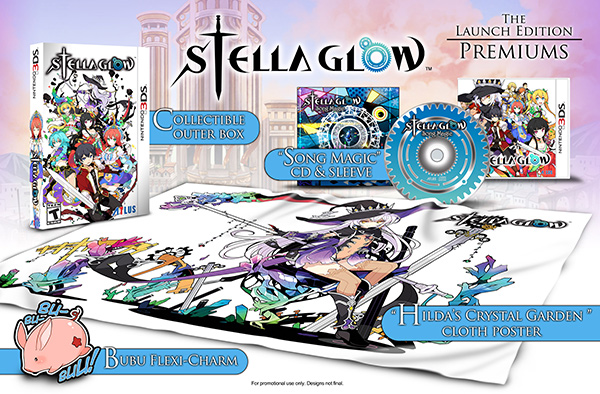 Not bad as far as special editions go! As a small aside, Stella Glow is the final title developed by Imageepoch following the Tokyo-based developer closing its doors earlier this year. Imageepoch almost exclusively developed RPGs, and created titles such as the Luminous Arc and 7th Dragon series, Arc Rise Fantasia, Time and Eternity, and many more. It seems fitting that their final title would get the lovely launch edition treatment that Atlus is giving it here.
Hit the link below or the image above to view a handful of new images in our gallery, as well. The launch edition will be available to those who pre-order Stella Glow, and also in limited quantities at release on November 17th.