Mother 2 / EarthBound OST to be Released on Vinyl in 2016
Did you SNES fans hold on to your record players?
08.26.15 - 3:02 AM
After the incredibly successful Kickstarter for Mother: The Original Arranged Soundtrack, independent record label, Ship to Shore PhonoCo. has announced that they will be releasing a completely remastered version of the Mother 2 soundtrack on vinyl in January of 2016.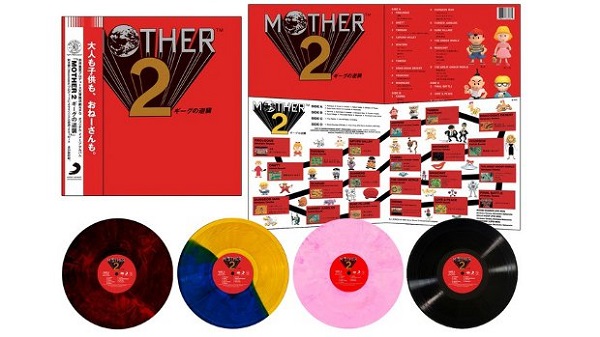 This premium double LP will ship in 4 color variants: Red / Black swirl, Blue / Yellow split, Hot Spring Pink and Classic Black.
If you were one of the 1400+ people who donated to the original Kickstarter, you'll receive an extra gift with your purchase.
Check out a sample of the remastered audio on the company's SoundCloud.
TRACK LISTING:
SIDE A
1. Prologue
2. Onett
3. Twoson
4. Saturn Valley
5. Winters
6. Threek
7. Doko Doko Desert
8. Fourside
9. Moonside
SIDE B
1. Ramma
2. Summers
3. Scarabi
4. Dungeon Man
5. Cursed Jungles
6. Gumi Village
7. The Under World
8. Magicant
9. The Great Under World
SIDE C
1. Final Battle
2. Love & Peace
3. Ending
SIDE D
1. Room Number (PSI Mix)
2. Hula-Hoop (PSI Mix)
3. Another 2 (PSI Mix)
Remember, no crying until the ending...