New Features in Dragon Quest VIII Include Camera, New Ending
First it was Dragon Quest-Minecraft, now Dragon Quest-Snap.
08.07.15 - 5:47 PM
Square-Enix is making it abundantly clear that Dragon Quest VIII: Journey of the Cursed King is more than just a port to the 3DS.
The remake will make full use of the 3DS's SD card and its StreetPass functionality. Camera mode allow players to take photos in-game various scenes, as well as your character and party. These photos are part of the Photo Quests that require you to take pictures of rare items, monsters, and landmarks. However the photos are also stored to the SD card where you can modify them with various stamps and other doodads. Additionally, the game will feature more alternative costumes to increase the variety of photo ops. Photos can then be shared with friends via StreetPass or the internet. If you create a Photo Postcard, you will automatically exchange cards when you pass another person with a Postcard.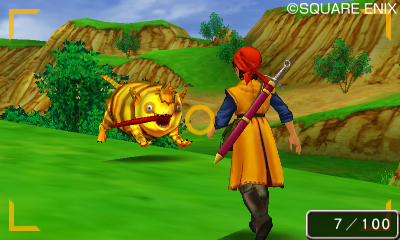 Other new systems include updates and expansions to the alchemy item crafting, the casino, and the Monster Arena.
Perhaps the most intriguing news is the announcement of a new ending. Square-Enix has hinted at "surprise developments," "an angry King Clavius," and "a sad protagonist." There will also be a new post-game dungeon called "The Ultimate Trial." It will feature purple treasure chests, whatever that means.
Dragon Quest VIII: Journey of the Cursed King comes out in Japan on the 3DS this August the 27th. There has been no word on a western release at this time.