Dragon Quest Press Event to Announce A New Title
Dragon Quest XI, maybe?
07.24.15 - 8:53 AM
According to a recent issue of Jump, Square Enix will be hosting a Dragon Quest press event on July 28th to announce a new title in the franchise. The event will be live streamed, so fans of the series can watch the unveiling of the new title. Could it be Dragon Quest XI? Guess we will have to wait to find out. We won't have to wait long for details however, as Jump also has plans to release follow-up news on the new title in its August 3rd issue.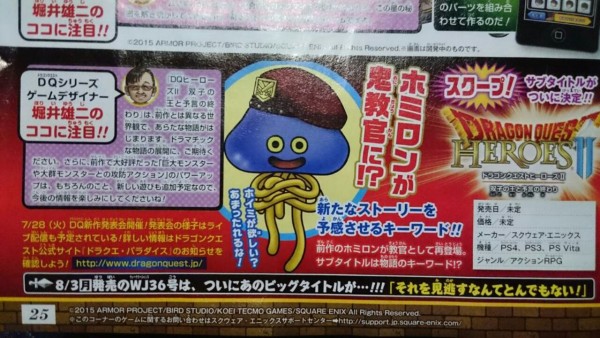 Jump also confirmed that the subtitle for Dragon Quest Heros II will be Twin Kings and the Prophecy's End. No release date has been announced, but we do know that the game will feature an all new story that includes Homiron. Series creator Yuji Horii had this to say on the title:
"Dragon Quest Heroes II: Twin Kings and the Prophecy's End has a different world view from the previous game, and through that a new story will begin. Please look forward to a dramatic story. The giant monsters and crowds of monsters-battle action' that was so popular in the previous game is powered up, of course. There are new ways to play and additions planned, so please look forward to more news."