Dragon Quest VII and VIII 3DS Will Be Coming In... French?!
Series creator Yuji Horii may have let something slip at Japan Expo.
07.06.15 - 11:06 PM
Fans have long clamored for Dragon Quest VII's Nintendo 3DS version to come out West, along with that of Dragon Quest VIII, which is due in Japan late next month. While there was not a peep of these two titles at last months' E3, this weekend at Japan Expo, series mastermind Yuji Horii may have accidentally confirmed Western releases... 'in French' - and there have been several tweets to back up the claim. While only the French language was mentioned by Horii, this was probably because the Expo took place in Paris, and there is unlikely to be French versions of theses two titles released without English ones.
Speaking of Dragon Quest VIII, Weekly Jump mentions that the 3DS version will get a brand new dungeon with an end boss named Jahagaros. Little else came of the article, but at least there's a look at some Akira Toriyama art in the scan.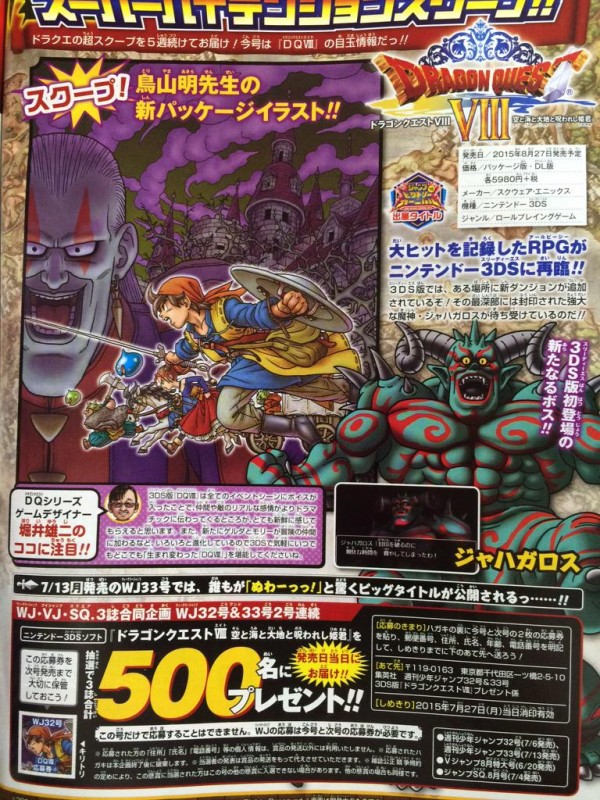 Dragon Quest VIII: Journey of the Cursed King for 3DS releases August 27th in Japan.