Limited Edition of Hyperdevotion Noire Announced
Does it come with a wall scroll? Why yes!
01.29.15 - 12:18 AM
I don't know about you, but I'm always looking for more crazy gaming-related things to decorate my home and office. Thankfully, companies like Idea Factory have people like me covered, and they're doing it again with a limited edition for Hyperdevotion Noire: Goddess of Black Heart. Here's what you get for your fifty-eight bucks: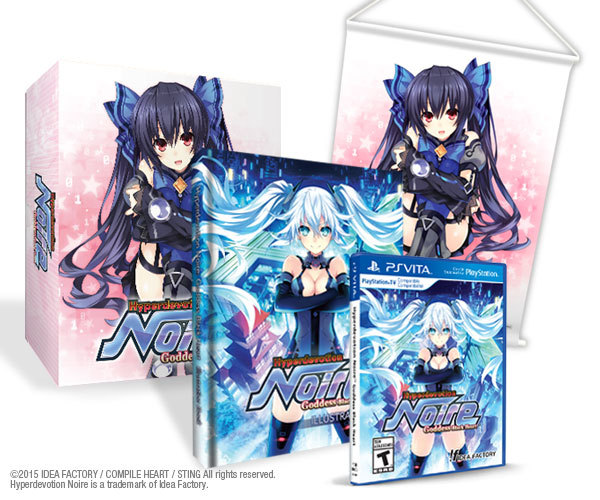 A copy of the game.
"XOXO Noire" Wall Scroll (9.75" W x 13.5" H, 100% polyester) – Decorate your room with this forever adorable Noire artwork! With this high-quality wall scroll, your room will be brighter than ever with Noire's squeezable smile!
Illustration Book (5.5" W x 7" H, 46 pages) – This hardcover, full-color artbook is packed with special art and information about the characters in Hyperdevotion Noire: Goddess Black Heart. It also includes rough sketches, background art, CG illustrations, cute pixel art, and more.
Collector's Box (7.25" W x 8.75" H x 1.88" D) – All Limited Edition items will be packed in this sturdy, double-layered box. With a full telescope design, fans need not worry about unpackaging dents!
Reversible Cover Sleeve Art — Can't get enough of Noire? No worries! Now, you can have the package art from the Japanese Standard and Limited Editions on your video game shelf!
Personally, I'm most excited for wall scrolls. Those always look great and really liven up a room. Pre-orders for the limited edition go live Monday, February 2nd at 9 pm EST. Hyperdevotion Noire: Goddess Black Heart is out on February 24th for PlayStation Vita.