Xenoblade Chronicles 3DS Bundled With Mini-Soundtrack in Japan
Ah, the sweet melodies of two giant dead robots.
01.27.15 - 4:31 PM
When Xenoblade Chronicles was first released in Japan for the Wii, first edition copies came with the game's soundtrack. Following in the footsteps of that tradition, Nintendo of Japan has revealed that a similar mini-soundtrack will also be packaged with the Nintendo 3DS port.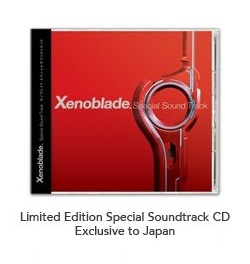 There's been no mention yet of any bonuses with the international release, so we'll just have to hope for the best! In the mean time, here the full track list:
1. Main Theme
2. Colony 9
3. Fight!
4. Gaur Plains
5. Memories
6. Macuna Woods
7. Those Who Bear Their Name
8. Fields of Machinae
9. Confrontation of the Enemy
10. The Awakening of the Giant
11. Parting and...
12. Beyond the Sky
Xenoblade Chronicles will be released for the New Nintendo 3DS in Japan this April. The game is scheduled to release in North America and Europe in the same month.