Disgaea 5 Variety Show is Very Japanese
And learn about what role curry will play in the game.
01.25.15 - 3:50 PM
What could be more Japanese than an anime strategy RPG replete with gun toting maids, shirtless demons, and explosions? Why, a variety show about said game, of course. In addition to hyping Disgaea 5: Alliance of Vengeance before its release with trailers and media, Nippon Ichi Software has released a half-hour long variety show. The show features two Japanese TV personalities answering Disgaea themed quizzes, drawing prinnies, and talking about curry (at least I think, my Japanese is pretty rusty). Check it out below.
Speaking of curry, apparently one of the NPCs in the game is a big fan. Usalia, a girl hailing from the Rabbit Rabbit Netherworld and riding a large yellow prinny, is such a curry lover that she will cook it before battle if you provide the ingredients. Choosing ingredients like bombs will result in spicy curry that will grant stat boosts. However not all curries are beneficial. The game is partnering with Japanese curry chain Go! Go! Curry with Disgaea themed promotions.
Other gameplay mechanics include the Demon Research Team, where you dispatch units to explore other Netherworlds to discover new demons. Finding and defeating a rare demon will result in rewards like rare items. The Dark Assembly also returns in the form of the Demon Strategy Meeting.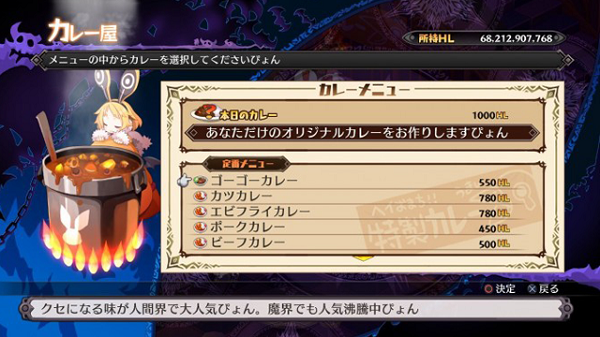 Disgaea 5: Alliance of Vengeance comes out on March 26th in Japan for the PlayStation 4, with a western release to follow in the fall.