Explore Sword Art Online: Lost Song's World in New Screenshots
Along with a new trailer and details about combat.
01.23.15 - 3:40 PM
Thanks to Dengeki, we have a number of new screenshots to share with you of Sword Art Online: Lost Song's world. As you may already know, this entry in the series is set on a floating continent called Svartalfheim (can you pronounce it?), which is made up of many different islands. One of the first islands you'll visit is called Woglinde; a place filled with wide-open grassy plains and dotted with windmills. While that sounds peaceful and relaxing (I'd holiday there!), it's also home to a huge dragon known as the "Conqueror of the Skies." I might rethink that vacation...
Aside from Woglinde, Svartalfheim features traditionally varied RPG terrain on its different islands. Some feature high, snow-covered mountains while others are barren deserts. As you may remember, a key mechanic in Lost Song is flight, so it will be interesting to see how much freedom Namco Bandai allow as you fly over and explore these areas. There will be plenty of powerful foes to find too, including a rather intimidating golem (pictured below) found in the desert.
The final location for today is known as the Sky Capital Line, a major city and your base of operations in the game. While there will be other towns to visit, this is the primary hub and features all the facilities you would expect: weapons and armour shops, a general goods store, inn, workshop, and so on.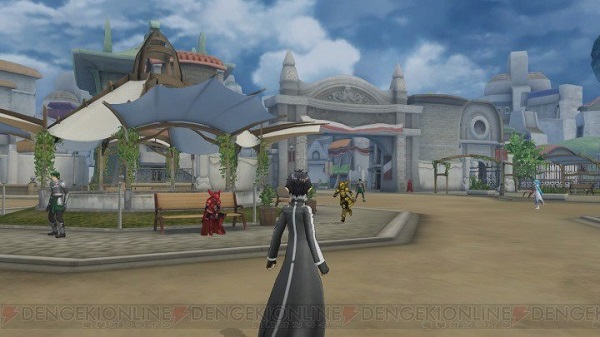 So what will you spend time doing in these locations? Fighting, of course! Namco Bandai have released another set of screens that show various attacks and abilities usable in combat situations. As Kirito, you'll be able to combo with light attacks, strike with heavy attacks, block, as well as use special sword skills and dodge incoming enemy attacks (though this uses stamina). While your weapons are out, however, Kirito will be unable to cast magic — the weapons must be put away to do so.
Outside of combat, exploration will be made easier by the ability to jump and fly. Jumping will come in handy in indoor areas where flight may be difficult or restricted. Flight is fairly unrestricted, and you'll even be able to dash in air to speed up at the cost of stamina.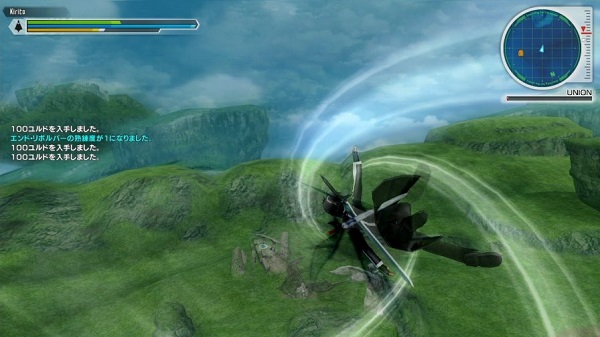 And, finally, we have a short Japanese tv advertisment to share. It is very brief, but provides a couple of gameplay scenes, including combat. Sword Art Online: Lost Song is due for release in Japan on March 26th for PlayStation 3 and PlayStation Vita.